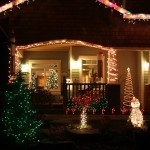 So you're planning a Christmas party at your home this year. As you already know very well, there are lots of stuff to be concerned about, from the food and drinks to serve right down to the people you want to invite. Of all these things, however, what you need to work on ahead of anything else are the Christmas decorations, which we all understand to be the single most effective way of spreading holiday cheer and making people really feel that it's that wonderful time of the year once again.
So you already have a Christmas tree inside your home, and all sorts of Christmas decorations all over the place. How about the outside of your home? If you plan on making your home as Christmassy as it can get, here are some outdoor home enhancements for your Christmas party that you might want to try.
Hang wreaths outside windows and doors
Few things can make the front of your house look more like a Christmas card than wreaths hanging on windows and doors. Many home owners consider it their favourite kind of Christmas decoration, and rightly so. Just admiring the house from the front with wreaths hanging on the front door and windows can make you feel like it's Christmas already.
Decorate patios and outdoor spaces
Many home owners think of their patios and outdoor spaces as an extension of their indoor living areas, and promptly include these outdoor areas on their Christmas decorating list especially when the home is situated in an area where the climate is mild all-year round. So deck your patios and outdoor space with Christmas lights, Christmas Bushes and any other Christmas decorations you can think of and make everyone who shows up for your Christmas party feel the spirit of Christmas even under the heat of the summer sun!
String the trees with lights
If your front yard has a tree or two, why not string it with lights and make the Christmas nights seem brighter outside your home? In this case, safety should always be first though. Make sure that the extension cord supplying electricity to the lights is secured at the base using a dowel staked into the ground. To prevent moisture from seeping into the connections, make sure that you wrap all of them thoroughly with electrical tape.
Garlands
If your home has a balcony, decorate it with garlands, lights or even bunting as they add a lot to the festive mood in the air. You can do the same thing to the columns of your house if it has them.
Novelty Christmas decorations
There are literally hundreds of novelty Christmas decorations that you can install outside your home that will certainly bring a lot of Christmas cheer to anyone who sees them. Funny Santa-themed decorations, lanterns that look like snowmen, or life-size tin soldier wall decorations are just some perfect examples of novelty Christmas decorations that can enhance the outside of your home before, during and after your Christmas party.
These are just a few examples of the outdoor home enhancements for your Christmas party that you can start working on now. If you want more and more ideas for outdoor Christmas decorations, give us a call and we'll send your way someone who can help make your home look as Christmassy as it can get.