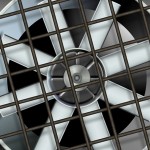 There was a time when all a person had to do to achieve proper ventilation at home was to open a window or a door. These days, however, proper ventilation the natural way has become some sort of a complicated matter. Opening a window could either mean higher energy costs or letting more pollutants from the outside in. Still, every home needs proper ventilation—open windows or not—because it is critical to home comfort in so many ways.
Proper ventilation is crucial to health
The biggest reason why all homes should have proper ventilation is that the quality of air inside a home is critical to the health of everyone who lives in it. Indoor air may become too humid, mildew ridden, dry, dusty and stale, and only proper ventilation will be able to correct this and return the quality of air inside our homes to healthy levels.
So what comprises proper ventilation at home? A properly ventilated home usually makes use of exhaust fans, ceiling fans and bath fans to keep the indoor air quality fresh and crisp. These fans help take all of the contaminants in the air out. With these contaminants out of the picture thanks to proper ventilation, your risk of suffering respiratory problems, smoke and carbon monoxide inhalation, being infected by viruses, having mould problems and water damage from excessive moisture in the air has become significantly lower. With the crisp and fresh air brought about by proper ventilation in your home, you and your family are provided a healthy environment to live in.
Ways to provide proper ventilation at home
To provide proper ventilation to your home, there are three ways that you can go about it. The first and definitely most obvious is natural ventilation. Open windows and doors and you'll have free, natural ventilation using the freshest air possible. Even cracks and holes in the walls of your home can provide proper ventilation.
However, if you don't like opening your windows for a longer than usual period of time, for whatever reason, then installing fans like the ones mentioned in the previous paragraph is the way to go. Install ceiling fans in your living room, exhaust fans in your bathroom, kitchen and garage, where the air can get awfully toxic with the exhaust from cars and trucks.
The third way of providing proper ventilation is by installing air ducts around your entire home. When you choose to put an air duct system in place, there would be three different ways air is moved through your home. An exhaust airflow system is responsible for pushing indoor air to the outside of your home. A supply air system, on the other hand, brings outside air into your home. There also happens to be a balanced system that works to move air in and out of your home. Whatever air system you choose to install, make sure that you keep it maintained to avoid blockages, which could allow pollutants in the air to linger in your home.
Remember that the installation of these fans and air systems should only be done by a professional, so if you're planning to give your home the proper ventilation that it needs, call us at Tradebusters. We have tradespeople in our exclusive network who specialise in ventilation systems, and we can guarantee that they are some of the best operating in the area where you live. Give us a call or accomplish our simple online form, and we'll match you up with the best tradesperson for your requirements as soon as possible.