The Ultimate Guide to Building an Outdoor Kitchen
Building an outdoor kitchen may be a great idea when upgrading your home. It's an excellent addition to your property, allowing you to utilise your unused outdoor space.
Are you planning to carry out an outdoor kitchen installation project? Consider today as your lucky day. Here's a helpful guide to building an outdoor cooking area. Continue reading to learn more.
Measure your outdoor space
The first thing to do if you wish to build an exterior kitchen is to measure the dimensions of your space. It'd be difficult to conduct a renovation and purchase cooking equipment if it's not compatible with your available open area.
Hence, take note of your outdoor space's dimensions and ensure it fits your kitchen layout. You can opt for an L-shaped kitchen if you need a spacious counter despite having a narrow property. This would allow you to save space and ensure you can move around your kitchen freely. Alternatively, if you have a sizeable exterior, you have more design options for your kitchen.
When measuring the space for your outdoor kitchen, you should consider if you need to remove some walls or existing structures out of the way. For instance, you may have more space if you remove an unfinished backyard project like a patio or a fire pit.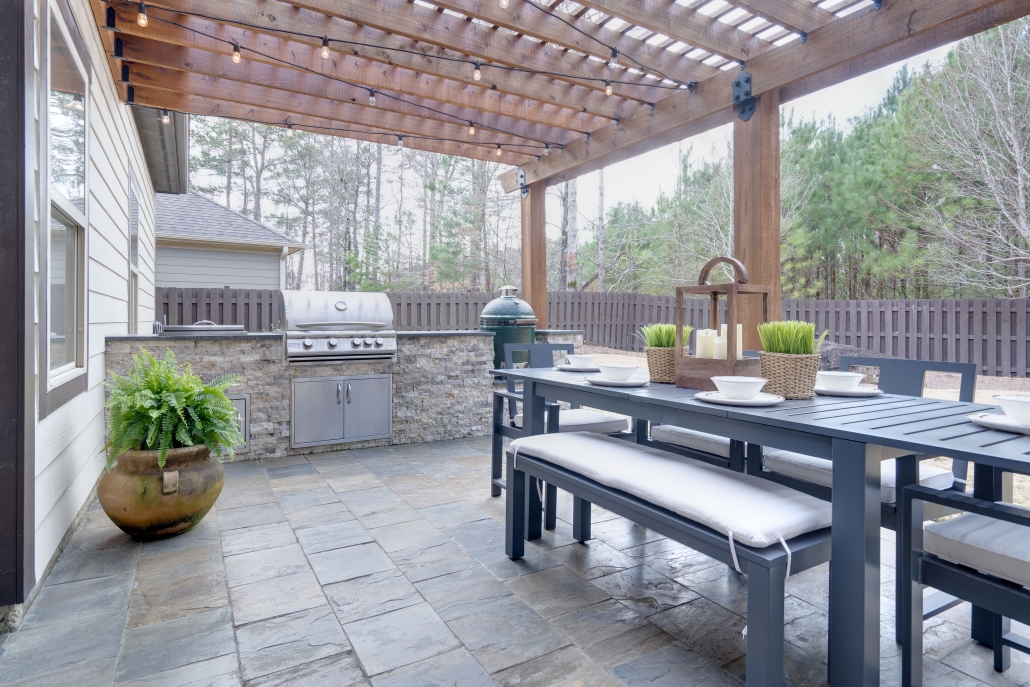 Hire a reliable construction company
Although you can construct your outdoor kitchen yourself, hiring someone to do it for you may be easier and faster. It may be challenging to complete your cooking space without professional help, especially when it requires major construction.
For example, you may damage your property if you attempt to drill holes in the wall without the proper equipment. However, you might not have any choice but to do it if you want to connect your kitchen's water line and drainage to the main house. Fortunately, some companies have a core drilling concrete machine they can use to do the task.
When choosing a company to hire for your kitchen construction, you should check their past works and reviews. This way, you can ensure they can meet your needs.
Build a weatherproof kitchen
Cooking outdoors is a fun activity you can do all year long. Nonetheless, there are times when external factors like the weather can prevent you from using your outdoor kitchen. Case in point, if your stove is in an open area, you may be unable to use it when it's raining.
So, if you wish to make the most out of your cooking spot, it's ideal to add features that'd protect it from various weather conditions like extreme heat or rain. As an example, you can install a roof over your outdoor kitchen to enjoy your cookouts regardless of the weather. You may also weatherproof the most critical areas of the kitchen, like the floor and wall foundation, to protect them from leaks or damage.
Additionally, it's best to pick durable materials for various parts of your kitchen, like the drawers or storage space. It's believed that stainless steel or excellent-quality wood are good options since they're low-maintenance and can withstand various weather conditions.
Add a dining area
If you have a huge outdoor area, you can add a dining set to complete your kitchen. You can buy a small dining table and set up some chairs to eat your home-cooked meals in your outdoor space. Plus, it's an excellent way to upgrade your property and create an area where you can entertain guests.
You can also add some stools if you have a bar in your kitchen. This is a great way to utilise your space and make your cooking area appear more laidback.
When choosing your dining pieces, it'd be best to match them with your house's design. For example, if you use a lot of wood elements throughout your property, you can pick a dining set made of wood – it'd complement your kitchen well and make your space look and feel harmonious.
Choose the right cooking equipment
When building your external kitchen, you need to consider which equipment you want to include. If you hastily install all types of cooking tools without consideration, some of them may be left unused. Henceforth, it's best to get products you prefer to use when you cook food.
For instance, adding a grill in your kitchen would be a great idea if you want to have barbeque dinners outside your home. On the other hand, you can install an oven on your counter if you want to bake more often. Overall, it's best to invest in cooking tools you know you'll use rather than ones you simply want to maximise your kitchen space.
Final thoughts
An outdoor kitchen is a great home project you can do to upgrade your property. Thus, when building one, it's helpful to consider things like your exterior space and kitchen design to ensure it fits your preferences and needs. You should think long-term when selecting its materials and furniture so you can use your outdoor cooking area for years to come too. Lastly, keep in mind the helpful tips enumerated above for future use.

https://www.tradebusters.com.au/wp-content/uploads/2022/08/Building-Outdoor-kitchen-scaled.jpeg
1707
2560
Special Feature
https://www.tradebusters.com.au/wp-content/uploads/2018/06/Tradebusters-Transparent-Logo-300x79.png
Special Feature
2022-08-02 13:06:28
2022-08-05 18:15:08
The Ultimate Guide To Building An Outdoor Kitchen