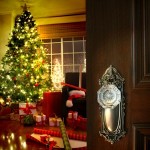 Christmas is that time of the year when there is a lot of cheer and happiness in the air, gifts being exchanged left and right, and friends and family coming over to your home to spend the holidays with you.
With all those people visiting, you definitely will need to prepare your home for holiday visitors. Here are some tips that could help you get your home visitor-ready for Christmas, all of which require no fortune to do.
Deep clean your home for Christmas
We often associate deep cleaning with spring, but you would also do well to deep clean your home for Christmas, given the number of people who might show up at your home on that day. Apart from the usual vacuuming of your floor and your carpets, use all-purpose cleaners to thoroughly clean your blinds and your windows. Your bathroom and kitchen also need to be more spotless than usual, because they are two parts of your home that your guests will certainly visit when they're there.
It can get overwhelming to deep clean your home for Christmas, but remember that you don't have to do everything by yourself. Delegate some of the cleaning tasks to other members of the household. Deep clean your home for Christmas about a couple of weeks before the big day, and just perform maintenance tasks from that point on till the holiday season is over.
De-clutter
For this job, you are going to need containers and maybe the trash bin. Go from room to room, pick up things that you think don't belong there and put them into those containers. Then sort out which ones you are still going to need or use. As for the ones that are no longer important to you, you can either throw them away, or you can donate them to charity. Personally though, the latter is the better choice. After all, it's Christmas.
Put up a Christmas tree
It isn't really Christmas if there's no tree in the house. For the tree, you can opt to go for a real one at a Christmas tree lot, or an artificial—plastic—Christmas tree. To better feel the spirit of Christmas, make it an event and get the family together to help decorate it with drinks and nibbles, and of course ornaments and a nice topper.
Decorate the house inside and outside
The Christmas tree is the centrepiece of your Christmas décor, but it would seem so lonely without decking the other parts of your home with wreaths, other ornaments, Christmas throw pillows, candy canes and other things akin to boughs of holly. A well-lit Nativity scene or a Santa Sleigh on your front yard would be great as well.
Freshen up the guestroom
When members of your family are coming over for Christmas, your guest room needs to be prepared. Most of them will likely drive home after the dinner, but always prepare for the likelihood that a few of them would be staying the night. Understandably, guest rooms that aren't used too frequently tend to gather dust, so get your vacuum cleaner and take them all out. If your guest room has a ceiling fan, place a pillowcase over each blade to capture all accumulated dust and remove any toxins created by them. To neutralise odours and help clean the air, place a houseplant or two in the room.
Of course, your guest room should have all of the things overnight guests might need, from clean beddings to essential toiletries.
Prepare extra beds
There's always the possibility that your guest room won't be big enough to accommodate all your relatives from out of town. That's why it would be great if you have extra beds prepared. Since real, traditional beds take up too much space for something that isn't used frequently, inflatable mattresses are more preferable. They are also so much cheaper, so buy at least three or four of them, and just stow them away in a cabinet or container when not in use.
Light your house up
Few things say "It's Chrismas!" better than Christmas lights at your home. You can get real creative with it, but some people do tend to go overboard with the lights and end up installing thousands of them and taking its toll on your electricity bill. Pick only certain places to put up some lights on, such as the mantle, your front balcony, your Christmas tree and that real tree in the front yard, if you have one.
Conduct a washing session
Gather your beddings, throw pillowcases in the living room, and your best drapes or curtains for Christmas and launder all of them off. It'll be nice to have the aroma of freshly washed fabric wafting all throughout the house during the holidays.
Upgrade your entryways
A good first impression is always nice in any situation, and for your guests on Christmas day, your home's foyer is the first place they'll set their eyes on. If it isn't too much, give your door a fresh coat of paint, polish and tighten door knobs, and oil door hinges to prevent them from squeaking and don't forget some nice welcome decorations.
Make sure your air con is working fine
We could be in for another hot Christmas season. For you and your guests to remain cool and comfortable even when the weather is really hot, your air con system should be running perfectly. Clean your air con unit, replace filters regularly and plug duct leaks, if any, to keep it operating efficiently all throughout the Christmas season and the whole of summer.
Remember to do these things ahead of time so you will be more than prepared for a clean, enjoyable and relaxing Christmas time with family, friends and visitors.