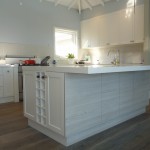 Let's say you're planning to sell your home in the future, and you want to make sure you get a good price for it. So you start planning all these major renovations that would, in the end, cost a lot. However, you actually don't really need to spend a fortune on renovation just to boost home value. There are smart ways of boosting your home's resale value, and by smart we mean inexpensive.
These simple and cheap changes can certainly help increase your asking price, and potential customers will be more than willing to pay it. Here are some of the simple and inexpensive ways to boost your home's resale value.
Enhance curb appeal
This is one very simple change to your home that you can start with. A fresh paint job to its exterior enhances curb appeal and makes your home look clean and well-maintained. While you're at it, clean the windows, install a new doorknob, put up a house number or a letterbox. You'd be surprised at how potential buyers react to your home when they first lay eyes on it.
Perform regular care and maintenance
Some home owners tend to go straight to getting major renovations done and overlook the basics like insulating the attic, repairing leaky windows, replacing rusty rain gutters, inspecting the furnace, installing storm doors and all those little but very important maintenance tasks. The cost of doing maintenance may come up to a few hundred dollars, but its impact on the value of your house would be equal to a few thousand.
Turn that garage into livable space
With cars getting bigger by the day, few home owners would actually park their SUVs inside a garage that is likely to be unable to fit two SUVs together. Even today's compact cars are wide enough to cause a problem parking two of them inside a regular-sized garage. If you're barely using the garage as a garage, it can serve other, more valuable purposes, like a bedroom, a playroom or even a kitchen extension. By converting your garage into any of those things, you are adding livable space to your home, which would certainly increase the value of your home.
Upgrade your flooring
Most real estate professionals will recommend that you spend money on upgrading your flooring. It is, after all, one of the first things potential buyers will see as soon as they open the front door. You don't even have to rip the entire flooring up, unless it's an option you are seriously considering and have the budget for. All you have to do is repair or replace broken tiles, patch damaged floorboards, or eliminate squeaking by driving a few well-placed nails. Upgrading your flooring this way may cost you only a few hundred dollars or even less, but the return on value would be in the thousand-dollar range.
If you think it's time to replace the entire floor, then you are on your way toward giving the interior of your house an instant facelift. You can make your home look more spacious by installing floors that are lighter or glossier in colour. Make your floors off-white, mushroom, taupe or any neutral colour that will appeal to a wider market.
Renovate your bathroom and kitchen
If you have to undertake a major renovation project to add value to your home, it is best that you focus on your bathroom and/or kitchen. They are, after all, considered by many to be the two most important rooms in the house.
For your kitchen, we recommend that you make everything clean, accessible, modern and stylish. Stainless steel appliances will always look great in it, and so will solid wood worktops. As much as possible, avoid colour fads, because they are not going to stay "in" for long.
As for your bathroom, go for a simple, stylish and neutral finish. Instead of fancy gadgets, spend more money on quality features like a heated towel rail, a glass shower screen. Most potential buyers would also prefer mixer taps.
For major renovations to boost home value, they need to be done properly and professionally to be able to do just that. That is something Tradebusters can definitely help with. Give Tradebusters a call, and we'll make sure you get access to some of the most skilled and experienced tradies in the country.
https://www.tradebusters.com.au/wp-content/uploads/2018/06/Tradebusters-Transparent-Logo-300x79.png
0
0
Valerie, The Editor
https://www.tradebusters.com.au/wp-content/uploads/2018/06/Tradebusters-Transparent-Logo-300x79.png
Valerie, The Editor
2014-06-01 08:56:36
2014-06-16 10:10:05
Smart Ways to Boost Home Value