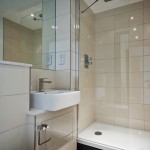 Here's a bit of great news for home owners who are renovating to sell. According to a report on Smart Property Investment, you can boost apartment value with a second bathroom, and by a significant amount at that.
A second bathroom adds tens of thousands of dollars in home value
Citing a study conducted by property valuation firm Opteon, the Smart Property Investment report said that converting, say, a walk-in wardrobe or a storage room into a second bathroom can add approximately $20-30,000 to your apartment's value, which is quite an increase no matter how you look at it.
The Opteon research, which took into consideration such factors as views, elevation and sales timing, also mentioned that a second bathroom could also boost rent, as well as the number of people who will be interested in renting your place.
So if you're planning on renovating to sell, get an additional bathroom done for maximum income. And if you want to find the right plumbers and tradesmen to carry out such a conversion efficiently and properly, use the Tradebusters tradesmen concierge service. Give us a call and we'll set everything up for you. With our hand-picked network of trusted professionals you can be assured that the plumbers, tilers and bathroom renovators we send you are reliable, highly skilled and experienced.
https://www.tradebusters.com.au/wp-content/uploads/2018/06/Tradebusters-Transparent-Logo-300x79.png
0
0
Valerie, The Editor
https://www.tradebusters.com.au/wp-content/uploads/2018/06/Tradebusters-Transparent-Logo-300x79.png
Valerie, The Editor
2014-06-02 09:21:38
2014-05-28 20:50:40
Boost Apartment Value With A Second Bathroom