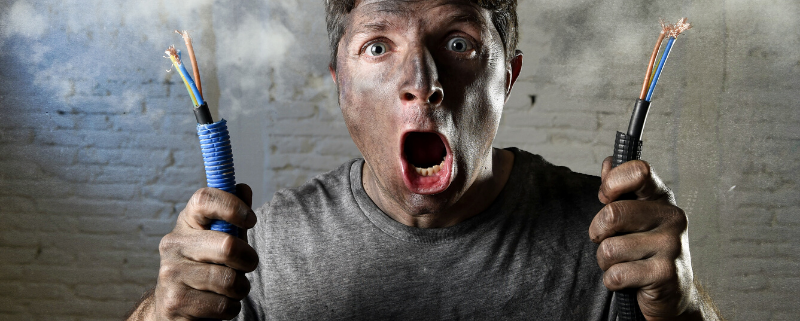 Get rid of that dodgy tradie
Would I be wrong in saying that the tradie profession suffers from some bad publicity?  Has anyone else noticed how current affair programs just love their "dodgy" tradie stories and even create set-ups just to "catch them out"?   I have watched a few and find it interesting how they all have the same storyline – the homeowner admits the tradie offered them a price well below other comparable quotes, then AGREES to pay cash with no contract, and also AGREES to hand over a 50% upfront payment!
Now does that look and feel all above board to you? That conversation alone should have had the homeowner running for cover.
Unfortunately that doesn't happen. In fact, that homeowner has just kept another dodgy tradie in business because they thought they were saving a dollar or two. The other unfortunate side to the story is that the homeowner has further empowered that tradie to move on and create another unacceptable outcome in the next home.
The ironic reality is, dodgy tradies are actually the most expensive option. They are costly in time and stress as well as financially, especially if the quality of work is so poor that it fails to add value.  Further, extra costs can be incurred to complete the job, and possibly to engage in legal action.
Then when it does go wrong (no surprise) the same homeowners hit the media to warn everyone that "all" tradies are bad, without exception!
At Tradebusters, we have seen a lot and learnt even more.  Some of our insights are outlined below:
In any profession, there are good and bad – whether it's a tradesperson, beautician, lawyer, accountant or even the local hairdresser.
There are two sides to every story. Media seems to focus on the "bad tradies", but there are also homeowners that don't pay good tradespeople for a job well done, have little respect for their time or value, or simply treat them as second rate citizens.
Given the opportunity (and availability of a current affair program) some people will look for a scapegoat and blame others for their own bad decisions.
You get what you pay for. A no-frills branded chocolate will never taste as good as a quality Swiss chocolate!
Tradebusters is proof that reliable, trustworthy and quality tradespeople do exist. We have over 100 businesses in our network. Our organisation feels privileged to be working with highly successful business teams that demonstrate care for their customers, their reputation and quality of work.  Tradebusters has helped hundreds and hundreds of homeowners have great, sometimes amazing experiences with tradespeople. But what about horror stories? Never!  Have we had tradies running a little late, or who need to go back and fix things? Yes sure, but infrequently. Just like in any business, issues do occur but it is the good businesses that step up and resolve them.
The reason why we have never had a dodgy tradie issue is simply because we choose not to associate with them, no matter what they offer. We are committed to getting the selection of the tradespeople right.  Naturally we seek well priced businesses that offer value, but this alone is never the deciding factor. We establish whether they 1) have a good track record, 2) care about their quality of work and reputation, and importantly 3) will come back should there be a problem.
Is the home-owner that knowingly takes the risk and engages the dodgy tradie the victim? Absolutely not!
Homeowners need to take more responsibility for their own decisions, especially when the warning bells are ringing loud and clear. Unfortunately, the only victims of their poor choices are the many reputable tradespeople out there whose profession is publicly tarnished as a consequence of their actions.
There are many thousands of complaints against tradesmen reported annually across this nation.  However many can be prevented by the property owner taking more care in the selection of the tradie in the first instance.
Good well priced, capable and conscientious tradespeople do exist. They can be your best investment towards a stress free home repair or renovation experience, and one that adds considerable value to your home.
Now aren't these the guys that we should be tapping into?
Need help finding tradespeople for your place?
Here at Tradebusters®, our FREE and local tradesmen concierge service can help you connect with highly recommended electricians and other trade businesses.
Simply complete our easy job request form and a member from our team will call you back shortly to help you get started.
More useful links:
Meet a Top 3 Local Choice near you:
Whether you are renovating, buying, selling, or moving, The Sydney Top 3 Local Choice directory can help connect you with vetted and reputable local businesses with confidence.
From local tradies, to real estate services providers, property and finance services we have you covered.
See who got a Top 3 spot near you.
https://www.tradebusters.com.au/wp-content/uploads/2019/12/Electrician-Sydney.png
400
800
Valerie, The Editor
https://www.tradebusters.com.au/wp-content/uploads/2018/06/Tradebusters-Transparent-Logo-300x79.png
Valerie, The Editor
2021-11-20 12:17:00
2021-09-14 09:23:29
The Dodgy Tradie… Are You Keeping Him Alive?