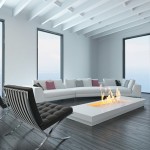 Data gathered by Australian property site RealEstate.com.au has revealed that more Australians prefer their homes to have modern interiors characterised by simplicity, clean lines and fully functional furniture.
Modernism over Traditional and Boho
According to the article written by Holly Jones for the site, a third of Australians choose modernism over Traditional, Boho and other more whimsical interior designs. Also contributing to this choice is the fact that steel, glass and other newer-style building materials, all of which are typically used in modern interiors, are being sold at many price levels.
Jones also says the average Australian's taste for modernism may also arise from wanting fewer things in their homes, to which modernism certainly lends itself well too. Homes with modern interiors are often marked by functionally accessorised spaces, not overwhelmed like that of other interior designs.
Personally, I also prefer minimalist homes. I like my spaces uncluttered, and I like any feature piece I place in home to be striking and charismatic, not garish or heavy on the eyes like typical Tradional or Boho pieces.
Then again, that's just me. If you prefer Traditional interiors or the eclectic and colourful features of Boho—or Bohemian—interiors, then go ahead. After all, you're the one who knows your tastes best, so don't hesitate to go for the style you know your heart wants.
Click here for the full article.
https://www.tradebusters.com.au/wp-content/uploads/2018/06/Tradebusters-Transparent-Logo-300x79.png
0
0
Valerie, The Editor
https://www.tradebusters.com.au/wp-content/uploads/2018/06/Tradebusters-Transparent-Logo-300x79.png
Valerie, The Editor
2014-02-18 09:14:10
2014-05-17 16:18:06
Aussies Like Modern Interiors For Their Homes More