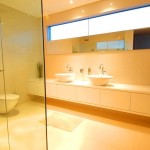 Everyone wants their home renovations to come off as the work of a professional. Of course, this can be easily done by actually hiring a renovation design professional, but if that is not an option for you, you should at least employ certain techniques used by interior designers to make their work look great. Focus happens to be one of those techniques.
Tricking the eye by employing focus
Viewed in a certain context, employing focus when designing your home renovation can be considered a trick, especially when you're using it to draw attention away from less attractive parts of any given room. At the same time, focus is an incredibly important weapon in an interior designer's arsenal, especially when it's done to create strong visual interest and draw people closer to a particular area or space of the room.
More often than not, focus as a design principle is commonly used by home owners who want to make it appear that their renovation is a thorough and wide-scale one, even though the actual renovation work done is minimal due to mainly to budget constraints.
Creating focal points in your home
The bathroom provides a perfect example of using focus to trick the eye into thinking a complete overhaul was done on it. Regardless of the size or design of the bathroom, the vanity and the mirror should always be its focus. Being the focus means both should be absolutely gorgeous, especially when your bathroom renovation budget is limited. Instead of spending a lot on the toilet, tiles, shower screen and other parts of the bathroom, spend for a wonderfully designed vanity and mirror. The attention both will draw should be enough to distract from the other, less gorgeous parts of your bathroom.
Speaking of mirrors, they also quite instrumental in bringing focus to any other part of the house. Let's say that your home has a certain area that looks narrow and cramped. You'd want to enlarge that part of your property, but you just don't have the budget for it. A mirror will do wonders at making the area look bigger than it is. It draws attention away from the fact that it is a small area, and it tricks the eye into thinking there is a lot more space there.
It's but normal for homes to have flaws, but when you create these focal points at various rooms of your house, those flaws will be all but relegated to the background. With the excitement and curiosity that such focal points generate, you can be sure that potential buyers—should you decide to sell—will hardly notice your home's imperfections.
The tips above, of course, are only for those who get on with renovation work without the help of a good renovation design professional. However, should you decide to hire a renovation design professional to make your renovation pop, you can count on Tradebusters to help you out in that regard. Give us a call, and we'll help you find renovation design professional who would make sure that your home will have its fair share of focal points that will make it more attractive to potential buyers.
https://www.tradebusters.com.au/wp-content/uploads/2018/06/Tradebusters-Transparent-Logo-300x79.png
0
0
Valerie, The Editor
https://www.tradebusters.com.au/wp-content/uploads/2018/06/Tradebusters-Transparent-Logo-300x79.png
Valerie, The Editor
2014-07-07 09:42:17
2014-07-07 14:06:34
Create Focal Points in Your Home