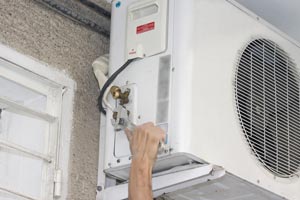 Like any machine, your central air conditioner needs to be properly maintained in order to perform at optimum capacity. On top of that, central air conditioner maintenance prolongs the unit's life. Neglect central air conditioning maintenance, and you can only expect efficiency loss, breakdowns and eventually, enough damage to require replacement way before its time.
Maintaining your central air conditioner may sound like an intimidating task, but it can actually be done by any home owner who has enough DIY sense. If you're thinking of going the DIY route in maintaining your central air conditioner, here are the steps you need to follow.
1. Shut the power
Before you do anything else, make sure that the power to the central air conditioner is completely shut off. This doesn't even have to be said, but it can never be said enough to put safety first above anything else. Don't think about doing any maintenance work on central air conditioners—or any appliance for that matter—until the power is shut off.
2. Clean the outdoor unit first
Check the condenser coils for dirt, debris and dust, and get them all out using a shop vacuum. After vacuuming, rinse the coils with water using a garden hose. The fins will also have to be cleaned but be careful not to get them bent. If there are any shrubs or plants near the outdoor unit, remove them so that the unit won't suck leaves or dirt in. That should keep your outdoor unit free of debris.
3. Clean the indoor unit
If you have access to the bottom side of the fins, vacuum it with a soft brush. Any debris you find on the fan should be removed. Afterwards, remove the fan with care, take it outside and spray it down using a water hose. Before putting the fan back when it's dry, check the blower compartment for any dust and vacuum it.
4. Change the air filter regularly
Ideally, the air filter of any air conditioning unit should be replaced once a month. You wouldn't want to wait longer to replace them, or they'll be so dirty that they'll reduce air flow and make your air conditioning work harder, thereby reducing its efficiency as well.
5. Clean the drain line
Any condensation that is formed by the air conditioning process is drained by a tube attached to your indoor unit. Make sure that this tube is clean and clear of any blockage, or in some cases, algae growth. A solution of one part bleach and one part water makes for a good drain line cleaner.
6. Check the air ducts
Maintaining your central air conditioner is not limited to cleaning and checking the unit itself. You have to check the sealing and insulating air ducts too and make sure that they are airtight. We recommend that you get a professional to do this job, and that is something that we at Tradebusters can help with. Call us, and we'll set up meetings between you and the best air conditioning professionals in our network.
https://www.tradebusters.com.au/wp-content/uploads/2018/06/Tradebusters-Transparent-Logo-300x79.png
0
0
Valerie, The Editor
https://www.tradebusters.com.au/wp-content/uploads/2018/06/Tradebusters-Transparent-Logo-300x79.png
Valerie, The Editor
2014-06-30 09:38:48
2014-06-30 13:51:08
Basic Central Air Conditioner Maintenance