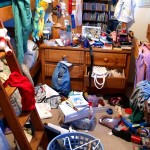 As long as people live in a home, there will always be a mess in one form or another. This is most especially true when you have little children leaving their toys—among other things—all over the place. The only way to not go crazy with all the mess or clutter is to organise your home on a regular basis.
Truth be told, organising your home can be a daunting task. There are ways, however, to make the job of organising your home a bit easier. Here are some tips and trick to do just that.
Write all your tasks down
In everything that you do, it is always a great idea to write tasks down when organising your home. A checklist of tasks enables you to keep track of your progress and helps you spend your time wisely. Having a checklist of tasks also ensures that you won't forget doing anything that's essential to organising your home.
Cleaning stuff on the ready
Organising your home means you're going to have to do some cleaning, so it would be great if you always have a steady supply of cleaning products and cleaning containers in your home. Detergent, bleach and certain chemicals should always be on hand. The same goes for tools such as sponges, sprays, squeegees, brushes and, to protect your hands when handling harsh chemicals, rubber gloves.
Prepare containers for clutter
As a matter of principle, all the stuff you own that are not nailed down to the floor must have their own containers, and that means you have to prepare containers for clutter. This way, you have a place to put all that scattered stuff back. There must also be containers for clutter that will not be used frequently, as well as for stuff that should be given away or disposed of.
When putting stuff into containers, make sure that they are categorised properly and labelled appropriately so that locating them when they're needed won't be too hard.
Take it slow
As mentioned earlier, organising your home can prove to be overwhelming, especially when you live in a bigger than usual house. That is why if you find the entire task tedious, I recommend that you take things slowly. Maybe for this day, just limit the organisation to one room. Then move on to other rooms as the week progresses.
Take a break from time to time
Even when you're just organising one room for the day, you are still going to need to take breaks every now and then. If you think organising that room is going to take you the whole day, take two 15-minute breathers, one in the morning and one in the afternoon. Breaks can help you de-stress and re-energise for your remaining organising tasks.
Get help
Sure, you would rather organise your home all by yourself. However, it wouldn't hurt to get some help. If you do your organising on a weekend, you can get your kids to help, especially if they're the ones who created much of the mess in the first place. Getting them to help you organise is also a great way of teaching your children some responsibility.
Be creative when organising your home
No place to hang your umbrellas? Turn a flower bucket into a useful umbrella holder. Too many hair ties? Keep them all in one place by hooking them on a carabiner. Spaghetti wires? Bread tags work great for organising all your cables. You can get real creative when organising your home, and most of them won't even cost you anything.
Whatever you do, don't think of organising your home as a one-off thing. No matter how well you organised your home the first time, it will never stay organised unless you are ready and willing to maintain everything on a regular basis for all time.