How An Outdoor Spa Affects Your Home's Value
Practical home improvements can boost your home's value. Increasing efficiency, functionality, and beauty makes any property more valuable. One of the significant value boosters is sprucing up your outdoor space with a relaxing spa. 
Outdoor spas provide unmatched relaxation in the comfort of your home. It offers health and wellness benefits for the whole family. It's also one of the short-term rental non-negotiables, especially in mountain properties. However, some homeowners may be hesitant to invest in an outdoor spa since the value it adds can be unpredictable.
Here's how an outdoor spa affects your home value, along with some tips to make every penny count.
Does an outdoor spa add value? 
The short answer is yes. An outdoor spa can increase your property's resale value by up to 75% of the cost of the tub. It can also boost your home's overall appeal if you're listing it for short-term rentals, which boosts profits.
A portable spa for home and travel is one of the most practical choices. These outdoor spas are easier to install, reducing the overall installation costs. They're also easy to incorporate into any outdoor living space.
Is an outdoor spa worth it? 
An outdoor spa is worth investing in if you plan to improve your property's outdoor living space. It's best for relaxation and entertainment, making your weekend home staycations feel more luxurious. However, adding other elements around your outdoor spa is best to guarantee a good value boost.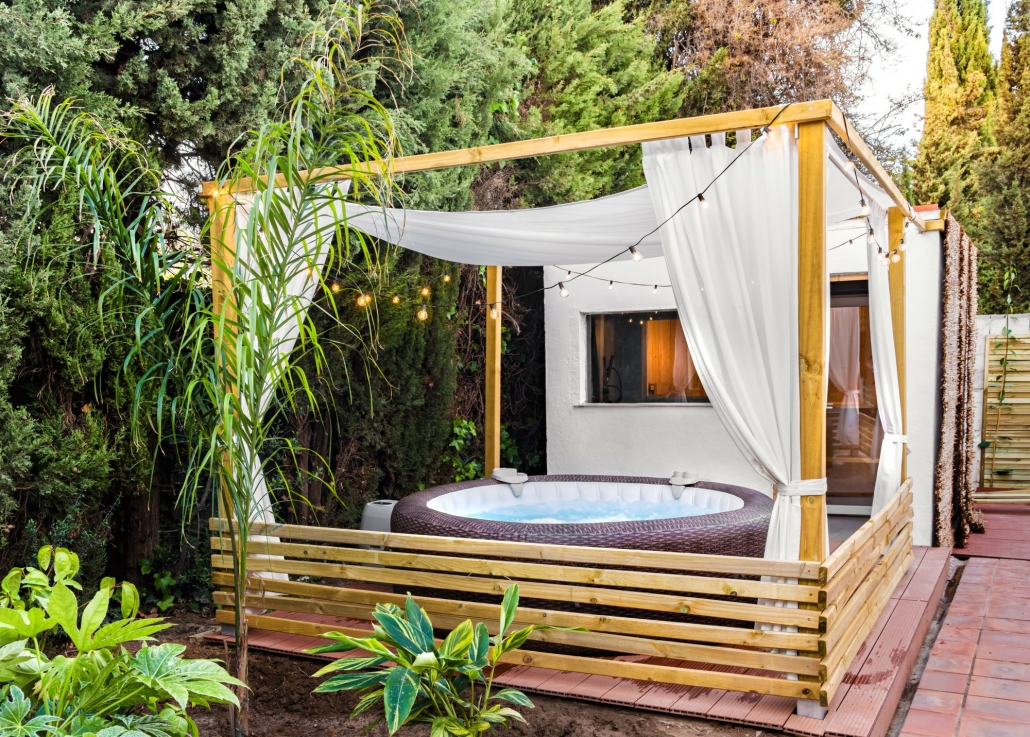 How to maximize an outdoor spa's value 
Installing an outdoor spa requires incorporating other practical and aesthetic elements in your outdoor space to maximize its value. Here are some improvements to consider alongside a spa to create a backyard oasis on your property: 
1. Build a deck 
A deck is perfect for entertaining get-togethers, especially during spring and summer. It's the best spot for cookouts and provides a space to enjoy the outdoors.
Building a deck around a portable outdoor spa provides accessibility by blending it seamlessly and making it look built-in. If you have an existing deck or gazebo to fit the spa in, add wooden steps to make it cozier.
According to real estate experts, property owners can expect a return of up to 65% of the total deck installation cost upon reselling their homes.
2. Create a cozy outdoor living area 
You can complete your deck by creating a functional living area with comfy seats, coffee tables, rugs, and cushions. A cozy outdoor hangout space provides a spot to enjoy snacks and drinks after dipping in a relaxing spa.
You can add transparent polycarbonate roofing to make your outdoor living area weatherproof. This roof allows you to enjoy the outdoors without worrying about sudden rains. It also enables you to enjoy your spa even during winter. You may also add a fireplace to make it even cozier.
A well-designed outdoor living space can also boost your property's resale value by up to 10%, making it one of the most valuable improvements alongside an outdoor spa.
3. Improve your landscape
Creating a relaxing outdoor living space involves a lush and cozy landscape. The lush greenery, pathways, and stonework make your backyard a serene spot to breathe and unwind.
Improving your landscape is essential when installing an outdoor spa. The environment plays a significant part in creating a calm ambiance. Proper landscaping is imperative whether you're located in a secluded mountain property or a suburban neighborhood. Moreover, planting hedges and trees can improve your backyard's privacy, which is a must when you have an outdoor spa.
4. Install ambient lighting
Lighting can transform any living space, especially at night. Installing ambient lights can make your outdoor living area cozier and more welcoming.
Ambient lighting is one of the most affordable backyard improvements that make your property stand out. You can choose string or fairy lights or install LED strip lighting on the roofline, steps, and around the spa.
Aside from making your backyard cozy, outdoor lighting can also improve security. On top of these benefits, you can expect a 50% return on investment when you install high-quality lighting.
5. Add an outdoor kitchen
Adding an outdoor kitchen makes your home more functional and ideal for entertaining guests. It also allows you to grab some drinks just a few steps from the spa.
A fully functional outdoor kitchen allows homeowners to recoup a hundred percent of what they spent on the project upon resale.
6. Maintain your outdoor spa
Maintaining your outdoor spa is crucial to maximizing its function and resale value. It requires regular cleaning and inspection to ensure it runs efficiently.
Opting for outdoor spas with a self-cleaning function is one of the best options to save on maintenance costs. It's also more valuable than other types of spas. 
Conclusion
An outdoor spa is a practical and valuable home addition. Knowing your best options and following tips to maximize value help ensure every penny you put into your property is worth it.
https://www.tradebusters.com.au/wp-content/uploads/2023/04/How-An-Outdoor-Spa-Affects-Your-Home's-Value.jpg
1333
2000
Special Feature
https://www.tradebusters.com.au/wp-content/uploads/2018/06/Tradebusters-Transparent-Logo-300x79.png
Special Feature
2023-04-21 09:20:23
2023-04-21 15:42:50
How An Outdoor Spa Affects Your Home's Value