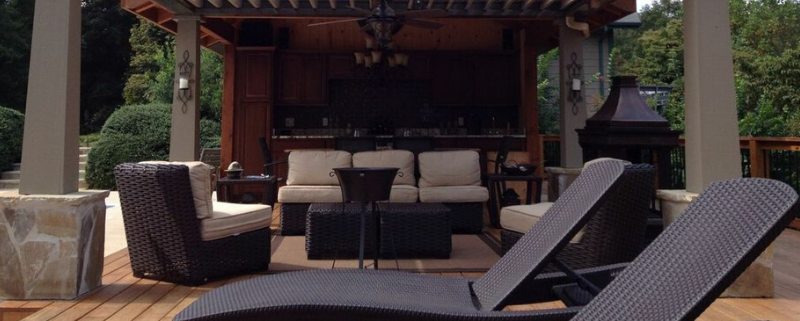 Versatile pergola design ideas
A pergola is a garden feature that forms a shaded walkway, passage or sitting area, often with retractable screens for added versatility. It differs from eaves or a veranda, in that it is usually a separately constructed feature with open sides.
In terms of home improvement fashion, the pergola has come a long way since it was first used described in the mid seventeenth century. A range of different frames and covering materials are now used, from highly engineered sunproof fabrics to arbour-like trained creepers including grapes, bougainvillea and ivy. Here are a few of our favourites:
1. True indoor-outdoor spaces
With a little planning and proper insulation, pergola areas can be supplied with electricity. This is ideal for entertainers who want to incorporate cafe heaters, BBQs and other amenities into the area.
2. Perennial/evergreen creepers
Grapes and other fruiting climbers (passionfruit, etc) look great while they're flowering, but can be tricky as a form of cover at other times of the year. Some plants are also more prone than others to dropping leaves and flowers when the weather changes sharply, meaning there's more to clean up. Ideal choices for year-round shade and shelter include clematis, trumpet creeper, jasmine, potato creeper, and Boston ivy.
3. Alternative profile shapes
Your pergola doesn't have to match the width of the building, nor does it have to extend to an even depth. Consider forming a covered walkway from one part of the pergola to another outdoor structure, or changing the outer border of the pergola to better blend with the landscaping of your garden.
4. Automation
Don't want to spend time extending and retracting screens or blinds? Consider a fully automated system.
5. Mutli-level pergola
Especially for homes situated on hillsides or near the beach, a pergola composed of multiple connected decks can create a versatile entertaining space, as well as a more natural gradation from indoors to outdoors.
6. Built in furniture
To save space and create cleaner lines, you can integrate seating and versatile bench space into the actual structure of your pergola. This is a great idea for reinforcing an indoor-outdoor theme.
7. Vertical gardens
If you don't particularly like vines, and want a little more privacy in your pergola, consider a vertical wall of plants. Using either fixed vertical planters or a frame on which baskets can be hung, you can create multi-dimensional interest and utility.
8. Clear corrugated PVC
This roofing material is a great low maintenance choice, and can be installed so as to direct rainwater runoff away from the house without any gaps.
9. Raised decking
Building a slightly elevated deck is a great way to distinguish the pergola from the rest of the garden, as well as keeping the space clean and tidy. Timber decking is a classic choice, but other materials such as polished concrete can also be versatile durable.
10. Decorative columns
Instead of plain support posts, consider decorative columns. These create a sense of grandeur and romance, and hark back to the very earliest terrace arbour and pergola designs.
Need help finding a good builder or other tradespeople for your place?
Here at Tradebusters®, our FREE and local tradesmen concierge service can help you connect with highly recommended tilers and other trade businesses.
Simply complete our easy job request form and a member from our team will call you back shortly to help you get started.
More useful links:
Meet a Top 3 Local Choice near you:
Did you know that through Tradebusters Connect, we power a Top 3 Local Choice directory near you.
Unlike other directories, we've done the leg work in finding the best vetted and recommended trade, real estate and finance professionals around.
Meet a Top 3 Local Choice today:
https://www.tradebusters.com.au/wp-content/uploads/2019/12/Pergola-Sydney.png
400
800
Valerie, The Editor
https://www.tradebusters.com.au/wp-content/uploads/2018/06/Tradebusters-Transparent-Logo-300x79.png
Valerie, The Editor
2019-12-20 12:20:00
2020-01-07 09:37:32
Versatile Pergola Design Ideas for Any Outdoor Space