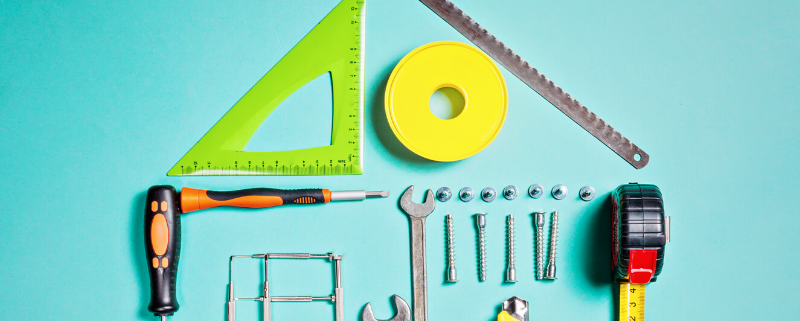 You know you're in for a pretty exciting experience if and when you decide to make renovations to your home. After all, this is your chance to get creative and build the kitchen, bathroom or home that you have always wanted.
The thing with renovations, however, is that can also get very stressful on so many levels. Fortunately, you can lessen some of that stress by hiring the right  builder for your home build or renovation project. In fact, hiring the right builder for your project will not only help you achieve your dream results on time and within budget but more importantly help you create a positive, enjoyable and memorable renovation experience.
To help you do this Tradebusters offers you the following 10 questions to ask and assess if a builder is the "right" builder for you:
1. Do you have a licence?
It's sad to note that many people try to save money by hiring unlicensed builders, but end up spending more because of the disastrous results the builders they hired come up with.
As a home owner, it your responsibility to ensure that any builder carrying out work at your home holds a licence. This helps you ensure that you are dealing with a legitimate business and also offers your better consumer protection should thing go wrong.
When it comes to getting any structural type of home repairs or renovation done, always hire a licensed builder, who should be more than willing to show you documentation to prove it.
2. Can I see any of your most recent work?
By viewing a builder's finished projects, you will be able to gauge for yourself not only the quality of their work, but the quality of the materials they use as well. You may even get to speak with that builder's past clients (infact we highly recommend this!). Past clients tend to be rather candid with details, so you'll have a clear idea about how the builder stacks up in terms of quality of work, customer experience and overall satisfaction. Ultimately you want to know, "would you recommend this builder again?".
3. Insurances?
Public liability insurance is a must have for any business, but especially important for builders. This protects you, your neighbours or anyone on your property should an injury occur during the project as well as property damage, should the builder be at fault. If a builder plans to sub-contact any part of the project works, you should confirm if his insurance covers subcontractors or if they have their own.
We encourage that you have an open discussion with your builder before the project begins around insurances, safety and liability and clearly understand who would be financial liable for accidents and property damage, should they occur. It is important you ensure the builder has the appropriate cover, because if he doesn't you may be held liable.
In addition, Home Building Compensation Fund (HBCF)  insurance must be provided if the contract for works exceeds a certain amount.
In NSW for example, it is $20,000. This covers  loss caused by defective or incomplete work in the event of the death, disappearance or insolvency of the builder within six years from the date of practical completion. Each state government site like Fair Trading or Consumer Affairs contain more information on values applicable for Home Warranty Insurance.
Request a copy of each policy and ensure it is current.
4. Do you work where I want to build?
You need to know that the builder you're talking to can work in the same area where you'll be building before you enter into an agreement. That's because there's always the possibility that the builder will not be willing to travel to that area and instead hire tradespeople he's not familiar with to work on your project. That can take a toll on the quality of construction work.
5. Will you be working on other projects at the same time?
If the answer is in the affirmative, find out how sizeable the builder's operation is, and determine if it's big enough to pull off several jobs at once without any difficulty. If the builder is running a small or modestly-sized operation, it would be best if he could just focus on your project, because that would mean it will be finished faster, and that mistakes will be kept to a minimum, if any.
6. Are you familiar with local council & building code requirements?
This is extremely important. You certainly don't want to spend a fortune on a construction project only to be forced to redo it because it didn't adhere to council and building code regulations. It's also not unheard of for local council rangers to stop by the site to issue a fine for violating local council requirements.
7. How long have you been in this business?
Experience is a very important factor in deciding a lot of things, and choosing the right builder for your home construction or renovation project is no exception. The longer a builder has been doing renovation and construction work, the better the chances that the end result would be up to par and exactly what you wanted.
8. What is your timeframe?
Apart from telling you the target start and stop dates, a good builder should take it upon himself to keep you informed about the different stages of construction- and even produce project plans to demonstrate this. If there are going to be possible construction delays, your builder must be able to give you enough warning. You will be much better prepared if you know all these things before work on your construction project begins.
9. Do you provide a warranty for your work?
When performing domestic building work, all builders are required by law to provide certain warranties. Steer clear of builders who do not provide such warranties. And yes, it must be in writing.
10. What sort of projects do you "specialise" in?
Really really important question! Do not assume (or accept as an answer) that a builder "does everything". Each builder has his/her areas of speciality. It may be new home constructions, small renovations, large scale renovations, second level additions, decking, kitchens, bathroom renovations, building remediation works. It is important to establish the builder is "right" for your particular project.
We hope the above questions can help you establish if a particular builder is right for your home construction or renovation project. Should you need help in finding the right builder for your house build or small or large renovation, our free tradesmen concierge service is perfect for you. We can share experiences of  tried and tested builder-partners in our network and help you with options with builders who could be just right for you. Why not give our team a call today.
Need help finding a good builder or other tradespeople for your place?
Here at Tradebusters®, our FREE and local tradesmen concierge service can help you connect with highly recommended tilers and other trade businesses.
Simply complete our easy job request form and a member from our team will call you back shortly to help you get started.
More useful links:
Meet a Top 3 Local Choice near you:
Did you know that through Tradebusters Connect, we power a Top 3 Local Choice directory near you.
Unlike other directories, we've done the leg work in finding the best vetted and recommended trade, real estate and finance professionals around.
https://www.tradebusters.com.au/wp-content/uploads/2019/12/home-renovations-Sydney-Australia.png
400
800
Valerie, The Editor
https://www.tradebusters.com.au/wp-content/uploads/2018/06/Tradebusters-Transparent-Logo-300x79.png
Valerie, The Editor
2020-04-20 21:59:00
2021-01-12 12:12:52
10 Questions You Must Ask Your Builder