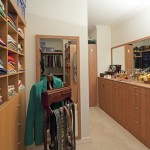 Does the house you just moved into have enough cabinet space in the bedrooms? If the answer is no, you obviously are going to need a wardrobe or two to accommodate all your clothes and accessories. The question is, which route should you take into getting that wardrobe done? Are you going to hire a professional cabinetmaker or carpenter to build and install a wardrobe for you, or are you going the do-it-yourself or DIY route?
If you're thinking about tackling a DIY wardrobe,  there are certain advantages and disadvantages attached to it. We spoke to some of the great cabinet makers in the Tradebusters network who have shared  their  insights into the pros and cons of DIY wardrobes.
DIY wardrobes may save you some dollars
Depending on what you build, some DIY wardrobes may save you money. Since you're the one who's going to be shopping around for materials and fixtures , you can personally make sure that what you  buy is within your budget.
What a rewarding experience!
There's always something about doing things by yourself that makes you feel great.  That sense of accomplishment that you get for building or creating something with your own two hands can't be earned any other way. When you go the DIY route, you learn a lot of things, and that learning experience alone can be quite rewarding.
The result depends on your skills
As with any DIY project, the end result will entirely depend on your own skills. If you believe you have good craftsmen skills and some experience in constructing anything, then do a DIY wardrobe may work for you. However, if you have limited carpentry skills, it is best to call in a professional for help. This is the right route to take for carpentry newbies, unless they are willing to throw some money at a DIY project that will unfortunately never be as good quality wise as one done by a professional ( and perhaps could even end up more costly).
It's time-consuming
Let's say you have good enough carpentry skills, and that this isn't your first DIY project. Great, but do you have the time for it? This is a legitimate question to be asked for people who are so busy with their jobs or their businesses that finding the time for DIY wardrobe would seem to be some sort of luxury.
Even if you do manage to find the time, would it be enough to finish the DIY wardrobe within a reasonable time frame? Remember, a DIY wardrobe is not just about putting various materials together. You have to do some planning and of course, shopping for materials as well.
Hopefully, the pros and cons of a DIY wardrobe discussed above can help you make the right decision about your wardrobe. If you would like a trusted carpenter or cabinet maker to create your dream wardrobe for you, give us a call today.