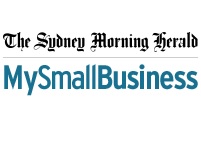 Are you a tradie in business? Check out our tips!
As a leading tradesmen service provider, Tradebusters works with hundreds of trade businesses across Australia, connecting them with homeowners for all home repair and renovation jobs.
We also power a Top 3 Local Choice business directory called Tradebusters ® Connect, where we help lift the profile of a range business owners including tradies, finance and real estate professionals.
We share below our tips to help other tradespeople succeed in business. Some of these were published in the Sydney Morning Herald- My Small Business Section on 20 August 2013.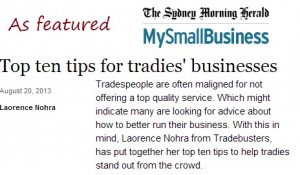 1. First impressions count- so make a great one!
From what our clients tell us, most of the time they have already decided if they would like to give a particular tradesperson the opportunity to win a job before they have even walked in the door.  Things like returning calls promptly, good phone manner, showing up on time and presenting in clean attire all form part of that first impression.
2. Establish your points of difference
With thousands upon thousands of other businesses in the same industry, it is competitive to say the least. Homeowners need to make a decision as to why they would select you from the next person, so help them answer that question. For example is it your 20+ years as a solid business owner, your sponsorship of local charities or that fact that you always clean up after your job. Communicate these to potential customers and on your website.
3.  Protect yourself with the right Terms and Conditions
Clearly documented and formally accepted terms and conditions are just as important for you as they are for the customer. Along with a detailed quote and scope of works it should cover payment terms and most importantly consequence of "non-payment" clauses. Such clauses can help ensure recoverability of non- payments from customers as well as associated interest, legal and debt recovery costs so that you are not out of pocket should things go wrong. A good lawyer can help you establish this.  
4. Measure success
As a tradesperson, your time is money so it pays to know what is working for you and what is not. Set yourself a quote success rate; it may 5 or 7 out of 10 jobs. And if you aren't winning those jobs, analyse why- is it due to price, or perhaps some other factor. Ask customers why they are not selecting you and see if you are getting consistent messages to warrant a change in your strategy.
5. Referrals and repeat customers should be the goal
Most of the successful tradespeople we know don't need to spend money of advertising as the majority of their work comes from repeat customers and referrals. So no matter how small the job, knock out your customers with an exceptional service experience. Not only will they have you top of mind for their next jobs, but they will be telling all their family, friends and neighbours about you!
Read the full article – Tradebusters Top Ten Tips for Tradies' Businesses – as featured in The Sydney Morning Herald – My Small Business.
www.smh.com.au/small-business/smallbiz-marketing/top-ten-tips-for-tradies-businesses-20130819-2s5v8.html
Need Help In Growing Your Trade Business?
Contact us at Tradebusters for a FREE Tradie Help Consultation. We have specialist solutions for trades including Website Design, Local Area Lead Generation Strategies, Social Media and Marketing Support, Business Coaching and more. Contact us today.
https://www.tradebusters.com.au/wp-content/uploads/2014/06/The-Sydney-Morning-Herald.jpg
150
201
tradeacademy
https://www.tradebusters.com.au/wp-content/uploads/2018/06/Tradebusters-Transparent-Logo-300x79.png
tradeacademy
2019-09-20 15:27:59
2021-04-27 10:01:35
Tips for Running a Successful Trade Business