Good Question. Is My Wall Load-Bearing?
Tearing down walls is often a part of any major renovation project in your home. However, before tearing any wall down, you need to determine if a wall is load-bearing or not.
When a wall is load-bearing, then it holds or transfers the weight load of a structure from one section to another. In other words, any attempts to bring that wall down means you will undoubtedly be bringing the entire structure down as well. This is why it's important that you know how to tell a load-bearing wall from one that isn't before tearing it down.
Here are some ways to determine if a wall is load-bearing or not.
Check the original building plans, if possible
If you can get your hands on the original plans for the structure, then you will have a much easier time determining if a wall is load-bearing or not. The blueprints provide valuable information as to where support beams lie, which were the structure's original exterior walls and a lot more.
If you can't get the blueprints, then it's time to give other ways a try.
Check the lowest part of your house
If you have a basement, that would be the best place to check first. If not, then it's the first floor that has to be checked. What you'd be looking for would be walls with beams that go directly into the concrete foundation. You should always assume that a wall that interfaces directly with a sturdy concrete foundation is load-bearing and therefore not to be touched.
While you're in the basement, look for the first floor joists. The walls that run parallel to those joists are non-load-bearing walls.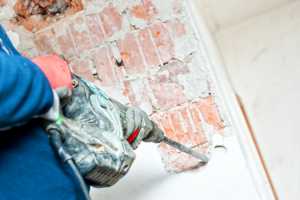 Check perpendicular walls
More often than not, walls that run perpendicular to floor joists are load-bearing ones. Those that lay parallel to floor joists, on the other hand, are non-load-bearing walls.
Check walls closer to the centre of the house
It is highly likely that walls that are located close to the centre of the house and laying parallel above the centre basement beam are load-bearing ones, so don't touch them.
Check the posts or columns
Columns have long been regarded as the pillars of any structure, although many of them today seem like they're only serving decorative purposes. Still, those columns are highly likely to be supporting the weight of other walls and portions of the roof above, so if you see walls that end in these columns, they are likely to be load-bearing.
Best option? Get a professional builder in
The tips mentioned above are only for the purposes of getting an idea which walls in your house are load-bearing, nothing more. If you actually plan to make some changes to those walls, the best route to take would be to get a professional to do it for you. Major structural changes should only be done by professional builders, even if you can claim to have a certain amount of skills to do the job.
The builders who belong to the Tradebusters network can easily and safely tell load-bearing walls apart from non-load-bearing ones.
Need help finding a good builder or other tradespeople for your place?
Did know here at Tradebusters®, our FREE and local tradesmen concierge service can help you connect with highly recommended builders and other trade businesses.
Check out more right here: www.tradebusters.com.au.
Or complete our easy job request form and a member from our team will call you back shortly to help you get started.
More Useful Links:
https://www.tradebusters.com.au/wp-content/uploads/2019/12/Concierge-Banner-family-house.png
350
1400
Valerie, The Editor
https://www.tradebusters.com.au/wp-content/uploads/2018/06/Tradebusters-Transparent-Logo-300x79.png
Valerie, The Editor
2019-10-10 10:47:00
2019-12-21 18:45:08
Ways to Determine if a Wall is Load-bearing or Not