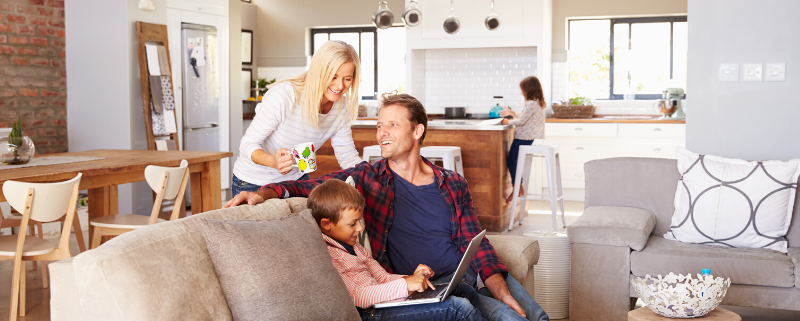 A helpful guide on your end of lease cleaning
The end of a lease can be a stressful time for both parties, made even worse if the fixed term of the contract has not ended. Here's how to end your lease with as little pain as possible.
Ending a lease before the fixed term
If you need to vacate a premise before the fixed term, then you will most likely be liable for some costs. Check your rental agreement to see where you stand before doing anything, as you may have a break fee agreement.
A lease break fee that is three years or less will generally incur the following costs:
6 Weeks rent will be payable if the lease is broken during the first half of the fixed term. For example, 12 months into a 24-month lease.
If the lease is broken during the second half (18 months if we continue with the above example) 4 weeks rent is payable.
A break fee will mean you have no extra costs to break the lease, but you will still need to keep current with the rent until you leave.
Other lease fees
Lease agreements which have no break fee may incur other costs including:
Paying the cost of the rent up until it is reset or the end of your fixed term lease agreement.
Part of the cost to advertise the property, and the reletting fee if an agent manages the property.
The length of the agreement will determine the amount you pay. If you had three months left on a 6-month lease, then you will be liable for half the costs.
Giving notice as part of your end-of-lease
If your fixed term lease is about to expire and you would not like to renew the agreement you can provide your landlord or real estate agent with 14 days' written notice. Notice can be given at any time up until the end date of the lease.
If the lease has ended, you must usually provide 21 days of notice.
What are your responsibilities at the end-of-lease?
If the premises are in the same condition as when you left it, then you shouldn't have any problems getting your bond back. Taking photos of the premises when you move in and when you are about to leaves is always a good idea and can protect you against unfair costs.
You can also use the condition report to verify that everything is in good order when you are ready to hand over the keys.
If anything is left behind after you vacate a property, your landlord is not obliged to store them indefinitely, so make sure to arrange pick-up as soon as possible. Also, note that your landlord cannot refuse to return your property even if you have outstanding rent.
If damage has occurred that isn't part of usual wear and tear, then you are responsible for getting it repaired or replaced.
Tradebusters can help you find a trusted tradie near you
Simply contact our FREE trade concierge today or tell us about your job right here. We can help you arrange all the trades you need as part of your end of lease clean.
If you need help preparing trades during your end of period lease like an electrician, plumber or even builders, you can also access our free Tradebusters Connect, Top 3 Local Choice directory.
Unlike other trade directories, we've done the leg work for you in finding the best vetted professionals around.
Meet a Top 3 Local Business Choice near you
https://www.tradebusters.com.au/wp-content/uploads/2019/12/Renovate-your-home-home-renovation-new-home-build.png
400
800
Valerie, The Editor
https://www.tradebusters.com.au/wp-content/uploads/2018/06/Tradebusters-Transparent-Logo-300x79.png
Valerie, The Editor
2019-07-20 19:05:25
2019-12-27 23:30:07
End of Lease Cleaning – A Helpful Guide