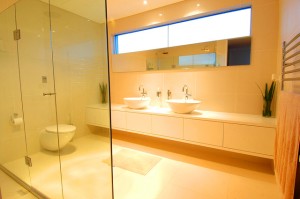 Are you still on the fence about doing a luxurious makeover for your bathroom? If so, then you might want to consider the following reasons. Much has been said about the kitchen being the most important part of the house. The bathroom, however, is no less important, if only for the fact that it also serves as our sanctuary from the stresses of life. The bathroom is where we can enjoy a long, hot shower, or luxuriate in a relaxing bubble bath for hours on end after a long and stressful day at work.
The bathroom may be one of the smallest rooms in the house, but just because it's small doesn't mean it's all right for the bathroom to look so drab or cheap. You can actually do a lot of things that will add more style to your bathroom. Here are some ideas to do just that.
Add bathroom vanities
There is no doubt that bathroom vanities add a lot of style and class to any given bathroom. It pretty much is the centrepiece of the bathroom, and they come in a wide range of sizes, shapes, and designs. However, if you have a small bathroom, choose bathroom vanities that don't take up too much space. A lot of great designs for small bathrooms are available, so this should not be a problem.
Don't put too much storage space
Sure, a bathroom with storage space and bathroom vanities is great and very convenient, but don't overdo it. Too much storage space can make your already small bathroom feel even more cramped or overcrowded. If you want more storage space for your bathroom and add a feeling of space at the same time, go for concealed storage solutions as well as simple lines.
Clean the grout
Assuming that your bathroom tiles still look great, you would do well to check the grout. Your bathroom may look great, but grout that is old, broken and mouldy can mess all that up. Even if your tiles are already old, clean grout will make it look as if they were installed yesterday! You have the option to clean the grout yourself with many grout cleaning products available in the market today, or you can hire a tradesperson that specialise in grout cleaning do it for you.
Add more style to your bathroom: Put up an elegant mirror
A mirror that looks absolutely gorgeous can do a lot to add more style to your bathroom. Aside from adding a little glamour into the bathroom, a mirror also reflects light and makes the bathroom look even brighter, fresher and more spacious.
Install more lighting
Speaking of lighting, installing different types of lighting in your bathroom will definitely add a touch of luxury to it, not to mention a certain degree of tranquility and calm. Ambient and task lighting are a given, but your bathroom sure can use some mood lighting. It is, after all, the place where you may soak in a bath for a long time, and strategically placed lighting can help set up and dictate the mood. Not to mention, the right lighting selections can also help create a sense of space in a small bathroom.
Change your taps
Something as simple as your water taps can transform the look of your entire bathroom. If your taps are already old and worn out and you need to change them, you might as well replace them with a more stylish, designer set. Whether you want your bathroom to have a more traditional feel or a modern look, there are elegant and stylish taps that can help you achieve either.
Install a heated towel rail
Now this may sound a little too much, but a heated towel rail brings a lot more to your bathroom than just a place to dry towels. Aside from ensuring that your towels remain dry, fresh and clean, a heated towel rail also serves as a much better-looking alternative to a heater in your bathroom. It's basically a way to stay cozy and warm in the winter, and it comes in designs that add more style to your bathroom.
These are just some of the ways to add more style to your bathroom, not to mention luxury and comfort. If you want to explore more options for a luxurious makeover for your bathroom, call us and we can connect you with one of our known and vetted bathroom renovation specialists who can create exactly the kind of bathroom that you want at your place.
https://www.tradebusters.com.au/wp-content/uploads/2018/06/Tradebusters-Transparent-Logo-300x79.png
0
0
Valerie, The Editor
https://www.tradebusters.com.au/wp-content/uploads/2018/06/Tradebusters-Transparent-Logo-300x79.png
Valerie, The Editor
2013-12-09 09:48:00
2014-05-17 16:24:50
A Luxurious Makeover For Your Bathroom