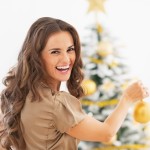 Home safety is always a concern during the Christmas season, and rightly so. With all the Christmas lights and decorations made of light materials all over our homes, there is always the risk of accidents.
These accidents, fortunately, can be avoided by implementing certain safety measures during the holiday season. Here are some of them that will assure you of home safety this Christmas.
Christmas lights safety
Since many of the home fires that have taken place during the holiday season are usually caused by defective Christmas lights, here are some Christmas lights safety tips that can help you avoid such accidents from ever happening to you.
If your Christmas lights are already old, consider buying new ones, which usually meet Christmas lights safety standards that are much higher.
Switch them off when you leave the house or when you turn in for the night.
If any of your string of lights have frayed or broken cords or loose bulb connections, don't use them anymore.
Keep the bulbs away from Christmas decorations made of materials that easily burn such as paper.
If you can help it, use Christmas lights outdoors only. And since installing outdoor Christmas lights means you are going to have to use an extension cord, make sure that it is not frayed and that all connections are tightly wound with electrical tape to keep moisture away.
Do not overload sockets.
Immediately replace bulbs that have blown out.
Never, ever let children play with the Christmas lights. Electrocution is the primary danger, but there have been cases where children have swallowed the bulbs.
Pick a freshly cut Christmas tree
If you're going for a real tree for Christmas, make sure that you buy one that's freshly cut. Buy a tree that has been cut too long and you'll be bringing a fire hazard into the house, because it has probably dried out already. One sure indication that you're buying a freshly-cut tree is that the needles should be green, hard to pull back from the branches, and should not break. Another is that the trunk feels sticky to the touch.
If you go the artificial Christmas tree route, make sure that it is labeled as flame-resistant.
Candles: Observe Christmas lights safety the traditional way
This may be too much to ask since they do come in a number of jolly designs and styles in keeping with the season, but if you can help it, don't use candles as part of your Christmas décor. However, if you insist on candles, you need to make sure that you:
Keep them in sturdy and non-flammable holders when lit
Keep them out of reach of children and pets, if any
Keep them away from anything flammable
Put all of them out before leaving your home or going to sleep.
Decoration safety
Always keep in mind that Christmas decorations made of paper or cardboard burn rather easily, so keep them away from fireplaces, lights, candles or any other heat source within your home.
Christmas pool parties safety
Christmas pool parties are common this time of year. To protect young children and reduce drowning risks, all in-ground and above ground swimming pools that contain water deeper than 30 centimetres should have safety barriers or fences. Still, parents should not completely rely on these fences, especially during Christmas pool parties where little children could slip into the pool unnoticed because of all the excitement in the air. Keeping a closer eye on your children is still the best way to keep them safe when you have Christmas pool parties at your home.
Keep clutter to a minimum
Majority of accidents happen at home, and the most common of them all are falls. That is why your home must be free of any clutter that you and your guests could accidentally step, trip or slip on especially during Christmas pool parties when floors are more slippery. It would also help if your stairs and hallways are well-lit.
Christmas is the most wonderful time of the year. Let's keep it that way by following the above tips for home safety this Christmas.
https://www.tradebusters.com.au/wp-content/uploads/2018/06/Tradebusters-Transparent-Logo-300x79.png
0
0
Valerie, The Editor
https://www.tradebusters.com.au/wp-content/uploads/2018/06/Tradebusters-Transparent-Logo-300x79.png
Valerie, The Editor
2013-12-10 10:00:00
2014-05-17 16:24:34
Home Safety this Christmas