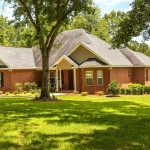 It's nice to live in a home with a beautiful lawn, but lawns can be a lot of hard work. Unless the area you're living in has adequate rainfall all throughout the year, maintaining a lawn and keeping it as green as possible can get really tough, bothersome and eventually, real costly.
If you live in an area with low rainfall or periodic droughts and you still want a lawn, you might want to consider alternative lawns that require minimal maintenance. Here are some of low-maintenance lawn options for you.
Moss
(Hypnum or Thuidium spp)
A moss lawn can be ideal for those with shady areas and moist, acidic soil. Once it's established, there's no need to mow, fertilize and water it. One downside of this low-maintenance lawn is that it's not very good at handling foot traffic. To avoid damaging your moss lawn, build a flagstone walkway so you can walk through it every day without any worries.
Sedge
(Carex spp)
Many might look at sedges as a pest, but they do look nice enough for a low-maintenance lawn. They grow in many different types of soil and come in many sizes and textures. You can opt to do a little maintenance work on them by mowing them a few times a year, or you can just leave it be for a look that is reminiscent of meadows. It is also hardy by nature, as it can handle light foot traffic quite well.
Mondo Grass
(Ophiopogon japonicus)
An evergreen ground cover that is native to Asia, mondo grass is one of the best types of low-maintenance lawn out there. It handles foot traffic well and usually comes in two types: regular and dwarf. Regular mondo grass can grow up to six inches tall. Dwarf mondo grass, on the other hand, is just two inches tall, which eliminates the need to mow every so often.
Dwarf Myrtle
(Myoporum parviflora)
The dwarf myrtle is an evergreen shrub that is native to Australia. Being drought tolerant, the dwarf myrtle is perfect is for those who live in drought-prone and low-desert regions. When left on its own, it can grow up to two feet tall. If you take the time to shear it, it would be nice to keep it at a height of one foot. When spring comes, it sprouts tiny white flowers that stay all through the summer. However, for all its toughness, the dwarf myrtle doesn't handle foot traffic that well.
Lilyturf
(Liriope muscari)
The lilyturf looks a lot like mondo grass, and just like it, it is drought tolerant once established, although it could use a little more watering compared to the mondo grass. More commonly known as liriope, the evergreen lilyturf grows up to one and a half feet talk. Its dark green strappy leaves are wider than that of the mondo grass. It grows on a wide range of soil types and can handle light foot traffic fairly well.
Clover
(Trifolium repens)
Clover is one of the toughest among the low-maintenance lawns in this list. It thrives under the sun, partial shade, a wide range of soils and doesn't need any fertilizing. While this member of the legume family handles foot traffic well, it has a problem with heavy running and playing though.
One thing you must keep in mind, however, is that no matter how low-maintenance the alternative lawns listed above can be, they still are going to need some maintenance on a periodic basis. To make your low-maintenance lawn look as green and nice as ever, it has to be mowed, irrigated and weeded occasionally.
If you want a low-maintenance lawn but haven't got the time nor the expertise to see what would go with your property best, call us here at Tradebusters and we'd be more than glad to help. It is our job to find you the best landscapers and gardeners who operate in or near your area. You can rest assured that once we send them your way, these professional landscapers and gardeners will be able to pick and design the kind of low-maintenance lawn that is just right for you.
Other Useful Links
Are you looking for a good landscaper in Sydney or Melbourne?
https://www.tradebusters.com.au/wp-content/uploads/2018/06/Tradebusters-Transparent-Logo-300x79.png
0
0
Valerie, The Editor
https://www.tradebusters.com.au/wp-content/uploads/2018/06/Tradebusters-Transparent-Logo-300x79.png
Valerie, The Editor
2014-01-24 09:18:34
2019-12-22 21:10:30
Lawns That Require Minimal Maintenance