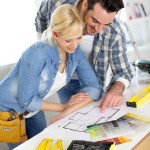 There are many reasons why many people choose to live in a small apartment. In most cases, the reason is economical in nature. These days, big apartments cost a lot, whether you're buying or just renting.
Because of their size—or lack of it—small apartments tend to get a bad reputation, particularly in the space department. In all honesty, small apartments do tend to be cramped, but that doesn't mean you can't do anything about it through the wonders of renovation. Yes, you can make the place seem more spacious and comfortable with a few tweaks here and there.
If you're willing to go down that route, here are some renovation tips for a small apartment to help you get started.
Paint your small apartment
When you paint your small apartment, you are making it look and feel brand new. A fresh coat of paint can also make your small apartment look spacious, depending on the colours you use. Paint one of the walls deep blue, dark red or any other dramatic colour, then paint the other walls with much lighter colours for a much more open feel. Your bathroom can also use a lighter paint job within the same colour theme.
Install mirrors
Put up full-length and wall mirrors in strategic spots inside your small apartment, preferably in a corner or the entryway. Mirrors can give the illusion of space and make any given room look larger. They can also be decorative, so pick frames that will go with the décor of your small apartment.
Put up space savers
One of the biggest problems facing those who live in a small apartment is storage space, particularly when they do own a lot of stuff. To give you more storage space, you need to install space-savers all over the apartment. You can build bed drawers where you can store your shoes, sweaters or photo albums. Cubbies on top of shelves would also be fine additions. As for furniture, you can go for bench storage boxes, which also happen to provide you with nice seats.
Hang floor-to-ceiling curtains
You can also go vertical when it comes to creating the illusion of more space for your small apartment. You can do this by hanging floor-to-ceiling curtains on your windows. For this illusion to work, the curtain rod must be placed about an inch or two from the ceiling, with the bottom of the curtains draped onto the floor. To give it a more detailed look, a sheer window dressing layered over an opaque curtain will do. The drapes should be light in color to make the room look more open.
Create more bathroom space
Small apartments also mean small bathrooms, but there are a number of ways for you to create more bathroom space. For one, you can install a space-saving pedestal sink. If the tiles are dark or worn out, you can always replace them with white ones or something light-coloured to create more bathroom space or at least an illusion of it. You can also install narrow shelving units in a corner for storing toiletries. Instead of towel racks, fasten hooks to the wall or the back of the door.
Hopefully, these renovation tips for a small apartment will be of help. Just keep in mind that when planning renovations, always secure the necessary permissions. After all, the most minor changes to fixtures and the walls could give rise to structural issues.
If you need help renovating your small apartment, you need not look any further. We at Tradebusters can easily find a tradesperson who can do the job for you as quickly and as efficiently as possible. Give us a call, and we'll be more than happy to help.