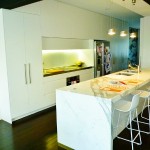 The kitchen, as far as many home owners are concerned, is the most important part of the house so if you are planning a kitchen renovation, naturally, you will want to get it right in all respects.  Here are some kitchen innovations to think about when you are planning and designing your dream kitchen.
Kitchen innovations: The disappearing refrigerator
I have always found refrigerators that blend seamlessly with cabinetry in the kitchen fascinating. I certainly enjoy the fact that the refrigerator will have new handles, controls that seem invisible and minimal lines on its facade. Indeed, the people who make disappearing refrigerators are a talented bunch, providing us with a functioning refrigerator and a work of art at the same time.
Add colour
The kitchen has always been viewed as a dull and utilitarian part of the house, whose only purpose is to be the place where food gets cooked. These days, however, kitchens deserve to look great, and what better way to do that by adding colour to the room? For inspiration, look to other areas of the house as well as your own personal design style to see which colours to add to (or take away from) your kitchen cabinetry, countertops, finishes and even tile backsplashes.
Let there be beautiful lights
Gone are the days when all the kitchen gets in terms of lighting are a couple of fluorescent bulbs. The modern kitchen deserves more lighting style, whether it's in the form of an ornate chandelier or a minimal set of pendant lamps. With such kitchen innovations, you will be looking at preparing food for the family in a whole new light, literally and figuratively speaking.
Install innovative kitchen appliances
The disappearing refrigerator is just one of the many innovative kitchen appliances you can go for these days to make your kitchen look more gorgeous. For instance, you might want to buy ovens that have curved back walls, dual convection, preset categories, finger-swipe technology and LCD screens. I also recommend buying innovative kitchen appliances like a steam oven, a fryer and an induction cooktop, among others. You may not be a trained chef, but all these innovative kitchen appliances can certainly make you feel like one. You'll be amazed at how pleasurable it is to operate innovative kitchen appliances of this level.
Create a barista in your kitchen
Most people would love to have a barista right there in their own homes. Who wouldn't want to have coffees, espressos, cappuccinos, hot teas and other delicious beverages instantly made for us without ever going out of the house? There are now ultra-modern hot coffee systems available in the market today that do more than just make coffee. There's actually one fully integrated system that actually cleans itself and steams milk, can you believe that?
Making your kitchen look even more appealing and timeless may require the services of a qualified cabinet maker or kitchen renovator. We can certainly help in that regard. At Tradebusters, we take pride in helping you find the most suitable cabinet makers for kitchen renovators in Sydney, Melbourne, Brisbane, Perth and the rest of Australia for your project. Contact our team for a discussion about your kitchen renovations needs.
https://www.tradebusters.com.au/wp-content/uploads/2018/06/Tradebusters-Transparent-Logo-300x79.png
0
0
Valerie, The Editor
https://www.tradebusters.com.au/wp-content/uploads/2018/06/Tradebusters-Transparent-Logo-300x79.png
Valerie, The Editor
2013-12-30 09:48:00
2014-05-17 16:20:56
Kitchen Renovations: Ideas to add Appeal