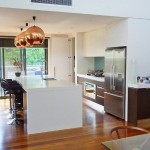 The way the kitchens of modern homes function and look like today, most of us are probably thinking that we have reached the pinnacle of kitchen design. Then again, if the innovators of the past thought about things that way, it's highly likely we're not going to be enjoying stuff like smartphones or even the Internet.
No matter how seemingly modern and multifunctional our present-day kitchens may be, they can still be made significantly better with innovations that may seem crazy or just too much today, but could be really necessary and useful in, say, half a century into the future.
Let's talk about some of these kitchens of the future, which are actually really cool to have.
Solar powered kitchens
Solar powered kitchens will certainly be self-sufficient. Imagine glass-like solar blocks letting a lot of natural light into your kitchen while at the same time powering it with renewable energy. Its external wall and roof will be made of a material that closely resembles glass that lets enough sunlight in and powers all your appliances inside it. And since plants will apparently be more important than ever around this era, having a roof and walls like the one described above will certainly maximise plant growth.
Kitchens that monitor your health
This sounds like something out of that Michael Bay movie called The Island, where the health of occupants are regularly analysed. In all honesty, however, I would want a kitchen that will tell me that I need to cut back on the bacon or something as useful.
Think of a kitchen that has handprint scanners that measure our sugar, bad cholesterol and body fat levels, among others. It would certainly be nice to know, on a regular basis, if the numbers are at a healthy level. If they aren't, the computer doing the analysis will come up with a recommended diet based on the body type of the person and any activity the person plans to do for that day. It's like having a dietitian and a doctor right there in the comfort your own home.
Kitchen counter-cum-steamer
How would you like your kitchen counter being a steamer at the same time? Instead of having to put a steamer on a gas stove or plugging in an electric steamer, all you have to do is place the foodstuff that you want to steam on a plate, which you in turn would put on top of attractively laid out holes on your kitchen counter. To make sure that none of your food is overcooked, the kitchen counter-cum-steamer will have automatic controls, which will switch itself off when a certain temperature that you set is reached.
Kitchen design: Kitchens with seafood walls
Have you ever been to a seafood restaurant where there are aquariums built into the walls from which you can choose the fish you'd like to have for dinner? How would you like something like that in your home, fifty years from now? Not only will it be great if edible fish and sea vegetation are grown right there in your kitchen. It will also be aesthetically pleasing to see something like that in your home.
Fifty years, however, is just too long to wait for these kitchen innovations to become commonplace. Many of us probably wouldn't even be here anymore, to be perfectly honest. Don't you just wish our kitchen design is like the ones described above now? I personally am excited over the prospect of solar powered kitchens. How about you? What kind of kitchens of the future would you like to have today?