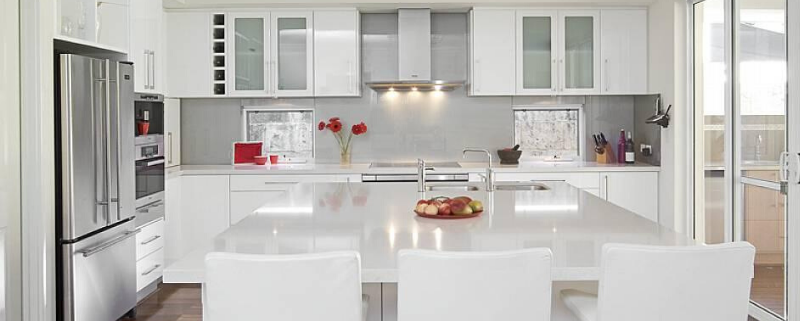 Smart and simple kitchen cabinet ideas to recreate
Kitchen cabinets are unlike any other storage space in your house. Because they're in such a high use area of the home, smart time saving and space maximising design features are essential. And because they're housing food and potentially hazardous utensils, cabinets need to be constructed securely, with enough room to hold everything- even items which may not stack perfectly together. There are a few features you can chat to your cabinetmaker about, which will increase the efficiency of your kitchen storage tenfold. Here are a few of our favourite picks:
1. Parallel pull out shelves
Instead of having multiple shelves within a cupboard, or multiple drawers, this option saves time otherwise spent bending down to sort through items. The front door is set on two tracks, which pull out to reveal a deep set of shelves- ideal for making everything in the cabinet visible at once, instead of having to dig to the back. This feature is also known as a pull out pantry.
2. Single compartments for kitchen bins
Regular or pull out compartments designed for a kitchen tidy bin will save a lot of cleaning time in the future, as kitchen waste cannot fall onto other utensils or shelves.
3. Back of door storage
Consider using the back of the cabinet door to create easy to access storage for small items. For example, a narrow spice rack may be built on to the back of the door. Hooks are also easily added for green bag storage, onion and potato baskets, and kitchen bin storage in larger cupboards.
4. Corner cupboards with rotating storage
The back of the corner cupboards can be hard to reach. Try a lazy-susan style rotating platform within the cupboard, for easy access to items.
5. Glass front cabinets
Glass cabinet doors allow you to see what's stored inside at any one time. This is a great idea for keeping cutlery and glassware visible yet dust free.
6. V-shaped corner drawers
Instead of having two sets of drawers at right angles with each other, and wasting a whole lot of space in between, why not have a corner drawer? This drawer runs on the same kind of parallel tracks as a regular square or rectangular drawer, but the tracks are set at a 45 degree angle to the surrounding drawers, and the front of the drawer is V-shaped.
7. Hanging storage for pots and pans
Just like an old fashioned galley kitchen, panels can be added above eye level from which pots, pans and larger utensils can be hung.
8. Tray dividers
Sick of having to dig out the baking tray you need from a bigger stack? Consider built in tray dividers. These can fit into any spare space, including next to the microwave or under a kitchen island.
9. Kitchen island storage
The extra bench space can double as storage space, without compromising legroom for the bar stools. Simply extend the depth of the bench on top.
10. Floating shelves for platter storage and decoration
Floating shelves in a matching finish to the rest of the cabinetry are a great way to store platters, decorative plates, flowers and fruit bowls without taking up bench space.
Need help finding a good builder or other tradespeople for your place?
Here at Tradebusters®, our FREE and local tradesmen concierge service can help you connect with highly recommended tilers and other trade businesses.
Simply complete our easy job request form and a member from our team will call you back shortly to help you get started.
More useful links:
Meet a Top 3 Local Choice near you:
Did you know that through Tradebusters Connect, we power a Top 3 Local Choice directory near you.
Unlike other directories, we've done the leg work in finding the best vetted and recommended trade, real estate and finance professionals around.
Meet a Top 3 Local Choice today:
https://www.tradebusters.com.au/wp-content/uploads/2019/12/Home-renovations-Sydney-1.png
400
800
Valerie, The Editor
https://www.tradebusters.com.au/wp-content/uploads/2018/06/Tradebusters-Transparent-Logo-300x79.png
Valerie, The Editor
2019-12-05 12:21:38
2020-01-07 09:37:34
Smart and Simple Kitchen Cabinet Ideas That Your Cabinetmaker Can Recreate