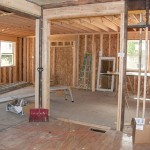 So you're about to do some home renovations because you intend to sell your property shortly. That's perfectly normal, and in most cases, a brilliant idea. Home renovations can certainly help add value to your property, but it's also a fact that some renovations, particularly DIY ones or too "trendy" ones can actually cause property value to plummet. There are certain factors that you need to consider so you can renovate to increase property value, not pull it down. Here are some tips on how to renovate to increase your property value and profits, especially if you are planning to sell it.
1. Take the location into consideration
When renovating to sell, always keep the location in mind. There is no sense going overboard with your home renovation when the area your house stands on is a low-cost outer suburb. Aside from sticking out like a sore thumb in an area where most houses look the same, it's not likely for people who are going house-hunting in that area to pick your over-renovated property and its predictably higher price tag. For your home renovation to appeal to a wider range of buyers, it should fit in with the profile of other houses in its street and location.
2. Think twice about going too "trendy"
So you have read about new "trends" for homes that you would like to incorporate into your own home renovation. However, you should take the word "trendy" into serious consideration. The root word of  "trendy" is "trend", and trends, as you know very well, pass with time. Before you know it, your trendy kitchen or bathroom renovation will suddenly become outdated, and if that doesn't appeal to buyers anymore, you could be forced to drop the house selling price to secure a sale.
If you're renovating to sell, it is always recommended to stick with neutral colours and timeless designs that appeal to the majority of  buyers for that location.
3. Don't be too colourful when renovating to sell
It is understandable that you have favourite colours, and you would personally love it if your renovated house bears all of it. Too much colour, however, can turn off a lot of potential buyers. When repainting your home with selling it in the future in mind, light, neutral colours will greatly add more value to your home and ultimately fetch you a better price.
4. Don't ignore its flaws
Let's say that your kitchen is your favourite part of the house. However, that same kitchen you love lacks natural light, and the tiles in the kitchen look old and worn out. Although you may not particularly notice them, such flaws could turn off potential buyers, taking the property longer to sell or even bringing down its price. So get those small flaws fixed before you put the house for sale. To help identify those flaws, get a fresh set of eyes in. It could be a friend or a local real estate agent that can carry out  a walk-through of your property and list the flaws that need action.
5. Let your old fixtures go
This has something to do with either sentimentality or simple refusal to spend on fittings and fixtures. Many home owners hold on to old fittings and fixtures for either reason. Potential buyers will always notice old faucets and ancient door handles, which can give them ammo to negotiate for a lower price. New fittings and fixtures are always good for freshening up everything about your home, regardless of whether you're selling or not.
6. Be consistent with your home renovation upgrades
So you have gone all out renovating the kitchen, which everyone knows is the most important part of the house, which is exactly why you renovated it in the first place. But what about the rest of the house? Did you give the other rooms the same attention? When you let potential buyers in, yes they may see a gorgeous kitchen but if the rest of the house areas like the living and bathroom are still looking run down and outdated,  that glaring inconsistency can certainly get people confused.
Now this may not really cause your property to lose value, but it's likely that you won't be getting the return you are hoping for or a quick sale. To maximise the return on your home renovation, don't spend too much effort, time and money on just one part of the house. If you are renovating to sell, it is better to use whatever time, money and effort you can spare to bring the whole house up to a fresher and more consistent standard. Even a fresh coat of paint, new fixtures or flooring can already do wonders to achieve this.
7. Find reliable and quality tradesmen for your renovation
If you have made the decision to renovate your property and sell it, then working with the right tradesmen is critical for success. Dealing with unreliable tradesmen can delay getting the property to market and increase it's holding costs. Also dealing with inexperienced tradesmen and even doing part of the work yourself (in the hope of saving a few bucks) could mean the renovation can go wrong in terms of noticeable quality shortcomings or simply dodgy work that destroys value and scares of potential buyers. When renovating for sale, it really pays to be working with the most reliable and recommended tradesmen you can source that can bring speed and quality to the project to really boost the value and profits you make.
When you have  finally decided to proceed with renovating to sell, and need to find a good builder or various tradesmen to get involved, you can contact our team at Tradebusters. With our exclusive network of handpicked tradesmen and experience in helping homeowners prepare homes for sale, you can have your home renovated and ready to go to market as quickly and as stress free as possible.
https://www.tradebusters.com.au/wp-content/uploads/2018/06/Tradebusters-Transparent-Logo-300x79.png
0
0
Valerie, The Editor
https://www.tradebusters.com.au/wp-content/uploads/2018/06/Tradebusters-Transparent-Logo-300x79.png
Valerie, The Editor
2014-03-07 09:35:46
2015-04-13 11:21:50
How To Renovate Without Reducing Your Home's Value