5 Reasons To Decorate Your Space With Outdoor Blinds
Maximising the living space is a practical home trend that's getting extremely popular worldwide. Also, taking indoor activities outside has become the norm for families who want to feel connected yet wish to exercise caution.
From creating a living room extension on the patio to building an outdoor kitchen, outdoor shading is one of the most common investments made by Australian homeowners looking to enjoy an 'indoors-out' lifestyle. But placing furniture outside requires protection from the elements, as well as privacy and security. This means choosing quality, durable and modern outdoor blinds is key.
Outdoor blinds can complement various home designs. If you're planning to enhance your home exterior, consider these customisable covers and discover how to add value to your home with outdoor blinds.
Getting to know outdoor blinds
Blinds are a type of window treatment that works similarly to window shades. Operating both requires a mechanism that enables it to be pulled up and down or from side to side in some cases. But while window shades are often made of fabric, outdoor or exterior blinds are crafted from sturdier materials such as vinyl, bamboo, wood, or aluminium slats. Blinds are usually placed on windows but can also be installed around other framed structures.
Slats come in many shapes, forms, and colours. Most come in horizontal shapes, but they can also be vertical. Outdoor blinds are commonly used to protect, secure, and provide much-needed privacy to exterior living spaces such as the garden, deck, patio, kitchen and dining space, porch, and courtyard. Exterior blinds work better than other shades like umbrellas and curtains that contribute less to boosting property value.
Why decorate your space with outdoor blinds
Blinds have several practical and aesthetic uses in your living spaces, whether indoor or outdoor. This window treatment can spruce up the area effectively when used on your property's exterior. Check out some of the benefits of outdoor blinds for your home.
1. Outdoor blinds can maximise your living space
Instead of spending too much money on walls, you can decorate your home with stylish outdoor blinds and use them as soft dividers. Placing blinds to convert some of your patio space into a lounge area is a great way to further 'extend' it. Adding a lounge chair and some throw pillows can do the trick.
It doesn't matter whether installing louvres is a planned or a spur-of-the-moment decision. You can always count on exterior blinds to fulfil your aesthetic and functional goals.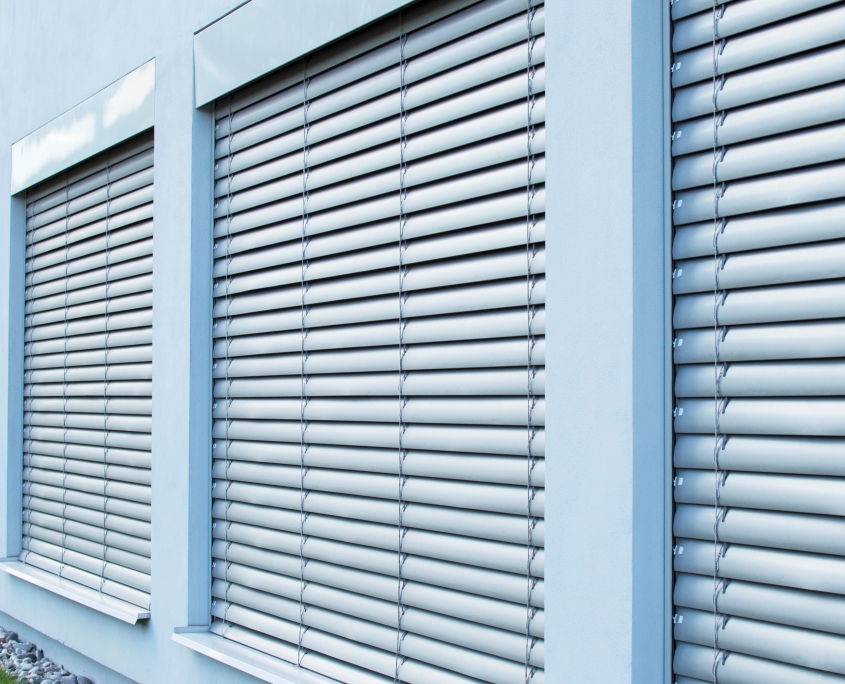 2. Outdoor blinds protect you from the elements
Because the slats are made from thick materials, exterior blinds offer the best protection against harsh elements. Curtains, canopies, and shades provide temporary protection from potentially harmful ultraviolet (UV) rays. Too much sun exposure may cause skin cancer, cataracts, premature aging, and other skin-related diseases.
If you want you and your family to enjoy the outdoors without worrying about your health, lower the blinds to protect you. Besides sun protection, the thickened slats can also shield you from strong winds, rain, extreme heat, and insects. With reduced sun, wind, and water exposure, your furniture and other fixtures will enjoy longer lifespans, with wooden fixtures requiring less maintenance work.
3. Outdoor blinds help enhance energy efficiency
Because it can effectively shield you from harsh elements, outdoor blinds can help regulate temperature, particularly in enclosed living spaces. You can adjust your slats to full coverage so the cold wind can't enter the patio or terrace space or prevent heat from seeping in.
Because of this functionality, you can use your covers to forgo air conditioning or heating for your outdoor area to help minimise power costs.
4. Outdoor blinds provide much-needed privacy
Sometimes, you need to spend some time alone to recharge yourself. Unfortunately, this could become a challenge if you have intrusive neighbours watching your every move or trying to hold a conversation.
Installing outdoor blinds can provide you with much-needed privacy from prying eyes, so you're free to do whatever you want. Choose a design and material that gives you the best coverage without compromising the look and feel of your outdoor area.
5. Outdoor blinds can boost your home's aesthetics
Outdoor blinds are available in multiple shapes, designs, and colours that allow you to mix and match them with your property's design. Whether modern, traditional, country or rustic, these covers are versatile and can be customised according to your needs and preferences. If you need some inspiration, check online sources to discover valuable tips for decorating your home.
Outdoor blinds can even be enhanced depending on your location, such as an added UV-blocking feature for warm areas. To get the most out of your bespoke exterior blinds, include this when planning a home renovation.
In conclusion
Your outdoor living area should give you comfort and a respite from stress. And what better way to relax than to go outside and breathe some fresh air?
While being functional, your living space should remain stylish and comfortable. Installing outdoor blinds can provide you with the relief you deserve.
https://www.tradebusters.com.au/wp-content/uploads/2022/05/Home-outdoor-blinds-scaled.jpeg
1707
2560
Special Feature
https://www.tradebusters.com.au/wp-content/uploads/2018/06/Tradebusters-Transparent-Logo-300x79.png
Special Feature
2022-05-06 15:50:35
2022-05-06 12:58:44
Reasons To Decorate Your Space With Outdoor Blinds