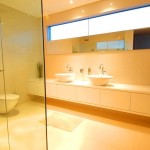 A bathroom renovation is perhaps one of the more complex renovation projects a home owner can undertake. Some home owners, however, take the "undertake" part of that statement a bit too seriously, and take on the project in DIY fashion.
The reason why a bathroom is complex to renovate is because it involves multiple operations that need to be carefully sequenced. Aside from a plumber to take care of the water pipes, drains, showers, toilet and other fixtures, a bathroom renovation is also going to entail the services of a good electrician, a waterproofer and an expert tile setter, among others. For this reason, your best option when it comes to a bathroom renovation is to find a good experienced bathroom renovator for the project. A good expert bathroom renovator can also deliver a higher quality job and help raise the value of your property significantly. However, before hiring one, you have to ask some key questions upfront to make the best selection. Here are some of those questions.
1. Are you properly licenced?
Australian state licensing laws require most tradesmen including tilers, plumbers and bathroom renovators to be carrying the right licenses to operate. They do vary state by state and may be different for the size of the project so it is always really important to check the requirements as part of the final selection process.
2. How long have you been in the bathroom renovation business?
Experience will always be key when you're doing any kind renovation project. If possible, choose bathroom renovators who have been operating under the same business name for a long time. With experienced bathroom renovators doing your bathroom renovation, you have an assurance that you will get the best result possible.
3. Can you provide me with references?
There should be no problem with getting references from a good bathroom renovator. In fact, a good renovator will even voluntarily provide some references and even pictures of their past work. They know that if we talk to them, they'll get nothing but great feedback for the work they have done. You can even ask his previous customers—if it's all right with them—to actually show you the work that the bathroom renovator has done for them.
4. Are you updated with local council & building code requirements?
A bathroom renovator, like all builders, should know the latest local council & building code requirements. If you are renovating a bathroom in an apartment block, there may also be specific strata requirements that you and the bathroom renovator must follow. It is always worthwhile to ask your strata and building manager.
5. How long will the job take you?
This is a really important question, especially if you only have one bathroom to use at home. You certainly don't want the bathroom renovation to be dragging out for more than a few weeks, A good bathroom renovator will always tell you his/her time frame for finishing the bathroom renovation project. He/she will also update you on its progress during the different stages of bathroom renovation work. Should there be issues, reasons for extra costs and delays these should also be explained to you.
6. Do you have Public Liability Insurance?
It's important that any contractor you hire for any kind of work in your home has public liability insurance. It is for your own protection and for anyone else that enters your property during the renovation and an injury or property damage occurs.
These are some of the most important questions you need to ask in order to find a good bathroom renovator. If you need help finding a contractor for your bathroom renovation project, just call us at Tradebusters. We can tell you about some suitable and experienced bathroom renovators in our trade network that may be suitable for your type of bathroom renovation project.
https://www.tradebusters.com.au/wp-content/uploads/2018/06/Tradebusters-Transparent-Logo-300x79.png
0
0
Valerie, The Editor
https://www.tradebusters.com.au/wp-content/uploads/2018/06/Tradebusters-Transparent-Logo-300x79.png
Valerie, The Editor
2014-02-28 09:17:52
2014-05-17 16:08:19
Six Questions To Ask A Good Bathroom Renovator