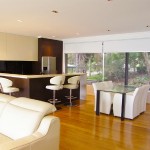 Spring is a great time for giving your home a makeover. When the first signs of this lovely time of the year begin to appear, you can start with these simple home makeover ideas for spring and make your home look as fresh and as stunning as it was the first day you moved in.
De-clutter your home
Clutter is the bane of many a lovely home. As long as people live in a house, there will always be clutter. Spring is a great time to clean and de-clutter your home from top to bottom, from attic to basement. When you de-clutter your home, make sure you have several containers that will help you organise all your stuff. Prepare containers for things to be stored away, for stuff to be given away to friends or family, and things that you either donate to charity or just simply dispose of in the trash.
Wipe your windows
Spring is that time of the year when flowers are in bloom and the grass is so green. What better way to see them in all their glory even when you're inside your home than wiping your windows inside and out? This is one of those simple home makeover ideas for spring that people tend to miss.
A little window-washing tip: use old newspapers, not washcloths or anything else. Better yet, use newspaper that hasn't been printed on yet, which are available at packing stores. That's because using newspaper leaves no streaks, thanks to the texture of the paper.
Let the sunshine in
Speaking of wiping your windows, it also happens to let more natural light into your home, which is great for improving our moods. However, if your home does not have much in the way of natural light, you can always have skylights installed. Or, you can add windows or enlarge the existing ones.
Go for flower power
Nothing gives a home a feeling of warmth and calm better than fresh flowers can. No matter how drab or dull a room may seem to be, a bunch of fresh flowers put into lovely bases never fails to bring life into that room. Fresh flowers are also great for lightening your mood.
Accessorise your home with fresh spring colours
Any room can be brightened up by cushions, artwork, curtains, throw pillows, rugs, lamp shades, light fittings and other stuff bearing the lively colours of spring. They are a feast for the eyes and add so much spring freshness to any room.
Give your home a paint job
Now if you really want to add colour to your home, there is no better way to do it than to give your home a paint job. When you give your home a paint job, you have the option to repaint the entire house, or you can just limit the repainting to choice parts of your home. As with the accessories mentioned above, choose spring colours for your repainting job.  It would be great to give your home a paint job that combines pastel colours against a soft neutral background.
These are just a handful of simple home makeover ideas for spring to get you started. If you want something more fabulous done for your home during spring, consult an interior designer and get your home as ready for spring as it can possibly get!