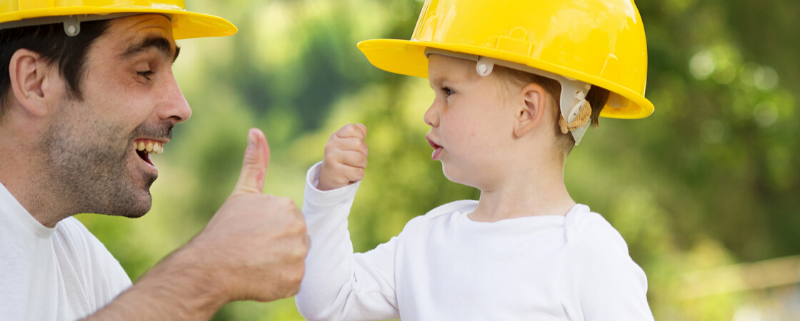 Researching can save you time and money
Finding a good tradesman in Australia can take some time and work. Whether you're having your entire house renovated or you just want to replace some of your pipes, you will need to make sure that the tradie you'll be hiring is the right man—or woman—for the job.
Hiring tradies in Australia is very much like hiring any employee: you need to interview them before deciding to hire them or moving on to the next prospective tradie. As with any interview, you need to prepare a good set of questions that will clearly indicate that he or she is the one tradie you would want to be working on your home.
To assist you in finding a good tradie in your Australian state and being able to ask the right questions, here are suggestion from our team at Tradebusters with some of the common questions we ask tradies when interviewing them.
1. Do you have proper licensing and accreditation?
With all the news that's been going around about traveling trades con men, you need to make sure that the person you're interviewing for the job is a legitimate tradie. In Australia, many trades businesses exert a lot of effort in undergoing extensive licensing and accreditation processes just to be able to join the peak organisations of their trade like Master Builders Australia or the Housing Industry Association (HIA). That also means that for every shady operator, there are many others who possess the appropriate accreditation. These are the tradespeople you are looking for, so don't forget to ask for proof.
2. Do you have any references?
Generally, the best way of finding a good tradie is through word of mouth referral. Satisfied customers are only too happy to tell their friends and relatives that a certain plumber or that electrician did an excellent job with them. So when hiring a tradie, ask for references, get their contact information and ask about this particular tradie. Better yet, for a major project like a building renovation or landscaping works, drop by the houses where they previously worked, and if the home owner allows it, inspect the job performed by the tradie yourself.
3. Can you provide me a quote?
You can separate the good tradies in Australia from the bad if they provide you with a detailed quote. That's because a tradie in Australia can actually ask the customer for more money about halfway through the job if the description is not that clear. Some may also cut corners, like painters providing just one coat of paint instead of two. A well-constructed quote should not just say what's included, but the exclusions as well.
4. Do you have any regular customers?
It is a positive sign of a tradies reputation, customer service skills and quality of work if he/she can demonstrate they have a strong repeat and regular customer base, so don't be afraid to ask. It could be the local school, real estate agents or other professional tradespeople like builders, interior designers that they do ongoing work for.
5. Can I get your guarantees in writing?
There's nothing like a written, signed and legally binding guarantee that the tradie will deliver on what was agreed upon. With such a document, you will be able to use it to pursue the tradie should he or she fail to deliver on what was promised.
6. Has anyone ever filed a formal complaint against you?
It is also within your rights as a customer to know if the tradie you are eyeing has ever been at the receiving end of a complaint filed with the Department of Fair Trading, Consumer Affairs or small claims tribunals such as VCAT. While it's true that the tradie can lie and answer in the negative, you can always dig around the websites of these agencies armed with only their names and their licence numbers.
7. Do you have experience with the job I'm asking you to do?
This is extremely important, because experience, more often than not, spells the difference when it comes to any job you want done at home. A plumber, for instance, may be experienced with installing pipes or fixtures, but does he have experience in renovating an entire bathroom or kitchen? Ask about years of experience as well as jobs that they specialise in.
8. Will you come back and fix any problems with your work after you leave, at no charge?
Most states require tradies in Australia to provide certain warranties for their work, and that includes re-doing their work should any problems crop up within an agreed period of time after they're done with the job. When hiring a tradie, avoid ones who do not provide such warranties.
9. Are you updated with local council & building code requirements?
Tradies in Australia, particular builders are expected to be up to date when it comes to local council & building code requirements. It will be a waste of time, money and effort if the work your tradie had done does not conform to local codes. You will be forced to redo the job, and may even be issued a penalty if the local agencies perform an inspection of your home.
10. Do you have public liability insurances?
Public liability insurance is a must for just about any tradesperson. No matter how skilled a tradie is, accidents can happen, which may lead to damages or injuries at your home to you, the tradie or others. To protect yourself, ensure that any tradie carrying out work on your property carries public liability insurance. Further if they plan to use subcontractors, it is important to ask if their policy covers them, or if they have their own. Ask for a copy of the policy and ensure it is current.
Need help finding a good electrician or other tradespeople for your place?
Here at Tradebusters®, our FREE and local tradesmen concierge service can help you connect with highly recommended electricians and other trade businesses.
Simply complete our easy job request form and a member from our team will call you back shortly to help you get started.
More useful links:
Meet a Top 3 Local Choice near you:
Whether you are renovating, buying, selling, or moving, The Sydney Top 3 Local Choice directory can help connect you with vetted and reputable local businesses with confidence.
From local tradies, to real estate services providers, property and finance services we have you covered.
See who got a Top 3 spot near you.
https://www.tradebusters.com.au/wp-content/uploads/2019/12/Trusted-and-recommended-builder-tradesman-tradie-Sydney.png
400
800
Valerie, The Editor
https://www.tradebusters.com.au/wp-content/uploads/2018/06/Tradebusters-Transparent-Logo-300x79.png
Valerie, The Editor
2021-03-20 09:02:00
2021-02-16 15:51:43
What To Ask A Tradie In Australia