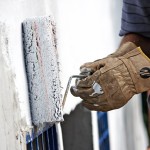 If you look around your home a little more closely, you are likely to notice peeling paint, a very tiny crack in the walls, or something that is just unpleasant to your eyes. Naturally, you'd want to immediately work on those cosmetic defects, but you don't have the budget for it. Here's a news flash for you: such small problems can actually be dealt with even with a shoestring budget. Here are some inexpensive cosmetic fixes for your home that you can get done quickly and easily.
A simple paint job can transform your home
By painting one of your rooms with a new colour, you are giving that part of your house a fresh look. More than that, the paint will also fix cracks, dents and other superficial problems you might have noticed as you took a look around your house.
Enhance entryways
It wouldn't cost much to pay for a new front door or give the old one a paint job, but the changes it can give your home will be dramatic. Your curb appeal will also be enhanced by such fixes, which may also include installing new outdoor lighting, repainting the exterior trim or even something as simple as replacing the house numbers. If you can spare a few more dollars, a brightly coloured entry rug or a new floor made of faux wood tiles should also work very well in enhancing entryways.
Put up a new backsplash
When you've cooked for years in your kitchen, it is but natural for the wall under your cabinetry to look a little off-colour or even have peeling paint. The cosmetic fix for this is installing a new backsplash. All it would take to create a simple yet gorgeous backsplash is a few tiles. Come to think of it, if you want it to be even cheaper, you can even get creative and use tin ceiling tiles, a wooden beadboard, stainless steel, magnetic paint or even wallpaper instead.
Brighten up the kitchen
This can be mostly achieved by repainting the walls, but a cheap cosmetic fix that will brighten up the kitchen even more would be new kitchen lighting fixtures. Even adding one such fixture over your dining table will already do wonders to your home's overall look.
Add wallpaper to your bathroom
Let's assume that you are just renting and therefore can't do much to improve your bathroom. What if we tell you that you can actually add wallpaper to your bathroom and make it look beautiful, with or without the permission of your landlord? Wallpaper, after all, is only a temporary fix that you can take down when you move out. For your bathroom, dark-coloured wallpapers are preferable, simply because all the moisture in a bathroom can make light-coloured ones a little dull as time goes by.
Replace cabinet knobs and pulls
Are the knobs and pull on your cabinets starting to look a little duller than usual? Then replace them with new ones, preferable with a different design for a totally refreshed look. Just make sure that you purchase knobs and pulls that are the same size as the ones you replaced, or you will have to do some re-drilling for your cabinets.
Most of these cheap cosmetic fixes for your home can be done the DIY way, but should you ever require help for any of them, know that you can rely on Tradebusters in that regard. With our roster of skilled and experienced tradespeople, you can be sure that any minor or major changes you want done on your home will be accomplished with utmost skill and efficiency. Call us now, and go through the Tradebusters experience yourself.
https://www.tradebusters.com.au/wp-content/uploads/2018/06/Tradebusters-Transparent-Logo-300x79.png
0
0
Valerie, The Editor
https://www.tradebusters.com.au/wp-content/uploads/2018/06/Tradebusters-Transparent-Logo-300x79.png
Valerie, The Editor
2014-04-24 09:15:03
2014-05-17 16:04:18
Inexpensive Cosmetic Fixes For Your Home