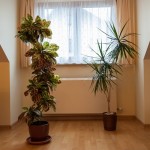 It is a fact that the with all the pollutants, allergens and dust that enter our homes on a daily basis, the air inside our homes is far from being as clean as we would like. And with our ever-growing consciousness about conserving energy at home, these pollutants, allergens and dust just keep on circulating inside our homes because of all the insulation. Of course, the common resort is to install exhaust fans or open the windows and doors periodically, but did you know that we can keep the air inside our home clean through our, green, leafy friends that breathe carbon dioxide?
Yes, there are houseplants that help clean the air inside your home. That, on top of their ability to add colour and life to any space. Here are some of those houseplants that can help in keeping your indoor air clean.
Aloe vera
If you think aloe vera is only good for shampoos or soaps or any toiletry, think again. Aloe vera has the ability of clearing the air of the formaldehyde and benzene that can be a byproduct of paint, chemical-based cleaners and chemical products. On top of that, aloe vera can also help heal cuts and burns with the gel inside it.
English Ivy
These are easy to maintain plants that, like aloe vera, help clear the air of formaldehyde and other common household chemicals that come from cleaning products, wood floors and synthetic carpets. There is even a study that it is capable of reducing airborne fecal matter particles. Now that is one really useful houseplant.
Azalea
The azalea plant is yet another formaldehyde-buster, but definitely better-looking. A beautiful flowering shrub, an azalea combats formaldehyde that arise from foam insulation or plywood. They work best in basements, an area that is typically cooler than other parts of the house. Just make sure you put it in a spot where it can get sunlight.
Snake plant
Since the topic of filtering formaldehyde keeps popping up, let's talk about the houseplant considered as one of the best at the job. Also known as mother-in-law's tongue, the snake plant takes out of the air the formaldehyde that cleaning products, tissues, toilet paper, and personal care products release into your indoor air. Better yet, the snake plant releases oxygen at night, which makes it great for placing inside your bedroom to ensure fresh oxygen even as you sleep. You would also do well to put one or two in your bathroom, whose low light and steamy humidity give it favourable conditions as it clears the air of pollutants.
Gerber daisy
If you bring dry cleaning home frequently, then it's safe to assume that your indoor air contains trichloroethylene, which can be removed by a bright, flowering plant called a gerber daisy. A plant that requires a lot of light, a gerber daisy is also good at filtering benzene, which can come with ink. Your bedroom and laundry room are perfect places to put in a gerber daisy.
Spider plant
For a spider plant, carbon monoxide, benzene and formaldehyde are fair game for the spider plant. It can also clear the indoor air of xylene, a solvent commonly used by the printing industry as well as manufacturers of leather and rubber products. What's more impressive is the fact that the spider plant, which boasts of rich foliage and tiny white flowers, is a very resilient one. That makes it perfect for home owners who tend to neglect their houseplants.
Golden pothos
Also known as devil's ivy, golden pothos is a fast-growing vine that is great at extracting formaldehyde from the air. Unlike most plants, it stays green even when it doesn't get much sunlight. It is best placed in a hanging basket in your garage, considering that the fumes from your car are loaded with formaldehyde and other pollutants.
Chrysanthemum
A chrysanthemum is essentially one of the most beautiful houseplants that are quite effective at keeping your indoor air clean. It is just as great at filtering out benzene from glue, paint, plastics and detergent as it is at brightening a home office or a living room with its colourful flowers. As it needs a lot of sunlight for its buds to open, we recommend that you place one near a window.
These are just some of the houseplants that present you with an inexpensive way of keeping your indoor air clean. With any of these houseplants inside your home, you can bet on a fresher and safer indoor environment for your family.