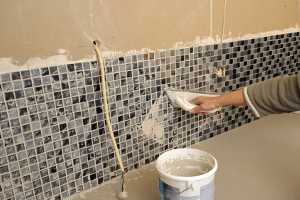 There will always be home improvement projects that you have to undertake for your home over the years. It could be small, like changing a leaky faucet or something big, like a bathroom renovation. Most of the time, you will be torn between going the do-it-yourself route and just hiring a professional tradesperson for the home improvement project. If you find yourself in a situation like that, here are some of the things to consider before going DIY or pro for your home improvement project.
Skills and tools
It is typical for a man of the house to take pride in fixing things around the house, which is great if he actually has the requisite set of skills and tools to start and finish the project properly. That is why you need to be really honest with yourself on this one. If you have doubts about your capabilities, don't let bravado get the better of you and proceed with the home improvement project anyway. It's always smarter to acknowledge the limit of your skills and have a professional tradesman do the job instead.
Also, you need to keep in mind that in Australia, it is illegal for people without an electrician's license to do electrical work that is more complicated than changing a light bulb. It would also be wiser to have a professional plumber do major plumbing jobs like pipe replacement and the like.
Learning something new
If this is your reason for going DIY, then you've chosen the best kind of practice. Experimentation with actual materials and tool is always tops in my book. Just make sure you are armed with the right tools and the right knowledge from websites, books, and other people before you dive head-first into the project.
DIY for a sense of accomplishment and pride
This is somehow related to the first item, where a man of the house takes it upon himself to do these projects for a sense of accomplishment and pride. Of course, this is one valid reason for going DIY. There is nothing like the feeling of having finished a project or made some household repairs by your lonesome.
Schedule and privacy
One of the main reasons why many people take the DIY route is because of schedule and privacy issues. You may have hired the best tradesperson in town, but the fact remains that that tradie is still a complete stranger who has to come into your home to do the work. Schedules also matter heavily, as they have to work at the same time that you have to work. Doing the project by yourself frees you from all these issues, which are perfectly good reasons to DIY.
Saving money
Naturally, the biggest and most obvious reason many home owners would rather do it themselves is money. They won't have to spend as much, that is, if they themselves do the work. However, if the quality of the work is less than ideal, you could end up spending more because you will have to hire a pro to take care of the mess you made. So if saving money is your reason for going DIY, make sure you have the skills, tools and preferably experience to come up with a good quality result.
Does the home improvement project involve building codes?
If this is the case, then you definitely have to go pro. It would be pretty useless and a waste of time, money and effort if you insist on doing a project yourself, only to be required to tear it down because they are not in accordance with local building codes and laws.
Take your relationships into consideration
Home improvement projects are exciting, but are ultimately stressful enough to take a toll on relationships. Going over budget, unfinished work, too much trouble—these are some the things that have proven to be taxing on relationships while a home improvement project is going on. So if you want to keep your relationships healthy, we recommend getting a professional for the job.
Can you actually finish the project?
So you were pretty excited when you started work on your project, but a number of factors such as other more pressing business or plain and simple fatigue has put the future of your home improvement project in question. There's also the possibility that you have already exhausted whatever skills you have and the project is nowhere near the end result you had in mind. In other words, it's a mess. When your home improvement project has gotten out of hand and you don't want it to get worse, it's time to let an actual tradie step in.
Weigh the value of your time
Saving money is a primary reason why people take the DIY road, but spending time on a home improvement project could also mean leave credits are going to be used, and you'll be giving up the chance to make money elsewhere. Weigh the value of your time, and if you think your time will be better spent at work or doing business, then hire a professional. You'll have the luxury of much needed free time, and your home improvement project gets finished sooner.
It's great if you can do your home improvement project yourself. Few things feel as good as being able to finish one with your own two hands. However, it's always wiser to go pro. While you actually have to spend more for the home improvement project, you at least can rest assured that the job will be done better and faster. Best of all, you'll have all the time in the world for other things, like making more money to pay for it and other future projects.
Should you decide to go pro for your home improvement project, you can't do better than calling us at Tradebusters. With a roster of highly skilled and experienced plumbers, electricians, builders and other tradies, we can assure you that your home improvement project is going to be done better and so much sooner than most other tradespersons. Give us a call, and see the difference that the Tradebusters experience offers.
https://www.tradebusters.com.au/wp-content/uploads/2018/06/Tradebusters-Transparent-Logo-300x79.png
0
0
Valerie, The Editor
https://www.tradebusters.com.au/wp-content/uploads/2018/06/Tradebusters-Transparent-Logo-300x79.png
Valerie, The Editor
2014-07-25 09:23:46
2014-07-23 09:27:20
Things to Consider Before Going DIY or Pro