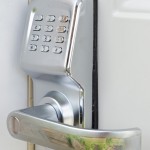 In more ways than one, wireless locks offer home owners a lot in the way of convenience. Imagine having the capability to let anyone into your locked house even when you're miles away. With the advent of wireless locks, the days of leaving a spare key under the rug or some potted plant are long gone.
However, in this day of hackers and cybercriminals, no one can really blame some home owners for not being that sold on the idea of installing wireless locks. However, if an article written by Krissy Rushing for Technology Tell is to be believed, their fears would seem to be unfounded.
Secure your smartphone and home network
Rushing says you only have to password-protect your smartphone—through which you can remotely access your wireless lock—as well as the app for it to make sure your home won't get broken into in the event you lose your smartphone. In case your smartphone or the battery of the wireless lock itself dies, most wireless lock models have a backup, from keypads on which you can enter a PIN code or online accounts from which you can do the same thing.
As for hackers, Rushing says the problem would often be with your home network itself, not that of the manufacturer. In other words, you only have to secure your home network — your router specifically — to protect yourself from these cybercriminals.
Click here to read the article in full.