Are you planning a kitchen renovation and need a good kitchen renovator?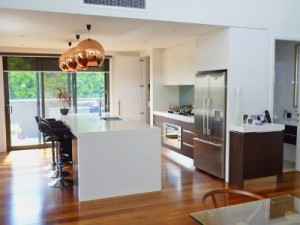 The kitchen is known to be the centre piece of the home and once renovated also has the potential to add considerable dollar value to your property- more than most other rooms of the house. Being one of the most complex and costly rooms in the house to renovate it is also a project you cannot risk to get wrong.
Out of the many trades out there, kitchen cabinet making is also one where the quality of work absolutely counts as any workmanship shortcomings will not go unnoticed and could destroy value.
Finding a good recommended kitchen renovator in Melbourne is key to avoiding costly mistakes or being left disappointed with the results.
To choose the best kitchen renovators in Melbourne without resorting to long hours of searching online, or taking the risk with "unknown" kitchen renovators, you will not need to go any further than Tradebusters.
About the kitchen renovators we know!
Our network of kitchen renovators have all been 100% recommended to us by homeowners that have experienced them first- hand in their homes. And this is why our service is different to other trade networks of there. Our team continue to use the same good kitchen renovators time and time again as they have proven themselves to our homeowner service users to be strongly referable with an ability to deliver high quality work at fair prices whilst creating perfectly functional and stylish kitchen spaces.
How Tradebusters will help you?
Our service is free and easy to use and we are all about helping you manage your kitchen renovation project with success. Our team including Annette and Sharon will discuss your kitchen renovation project with you and tell you everything you need to know about the cabinetmakers in our network including their experience, price ranges and what others have experienced with them. They will remain with you throughout the process to also assist you with:
Organising site meetings and quotes with suitable kitchen renovators and kitchen cabinet makers in Melbourne
Ensuring you get quotes on time
Arranging other tradesmen you may need as part of your kitchen renovation such as plumbers, electricians, or tilers
Leading you to some of our preferred suppliers, so that you can make additional savings on your kitchen renovation items like appliances, tilers etc.
If you don't know where to start with your kitchen renovation, then Tradebusters is the perfect place to. Why not give us a call today and find the best kitchen renovators in Melbourne?
More Kitchen Renovation Tips
Why the Kitchen is the Most Important Part of the Home
6 Tips to Make Your Kitchen Look More Fabulous
The Hidden Costs of Renovating Your Kitchen or Bathroom