Looking to find good bathroom renovators or designers in Brisbane?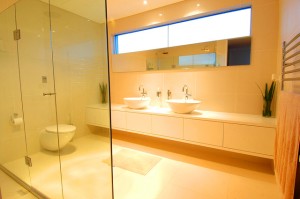 If there's one part of your home that will always be complex to renovate, it's your bathroom. Regardless of its size, your bathroom has to be renovated perfectly, because one tile placed wrong or one fixture improperly installed means a do-over. That, of course, will cost you in terms of time and money.
That is why at Tradebusters, we believe it is important that you find the right Brisbane bathroom renovator and designer to work with in order to avoid costly problems.
For those who are new to bathroom renovations, you need to know that the entire process may involve several different types of tradesmen. Aside from a plumber, you will also need the services of a good builder-bathroom renovator, a skilled carpenter and cabinet maker and an expert tiler in Brisbane. Finding them could be a daunting task, and that is where our service can really make the difference.
Find the best bathroom renovators and designers in Brisbane through us!
Your bathroom renovation experience should be a stress-free one, and that is exactly what we can offer you through our Tradebusters network.
The Brisbane bathroom renovators and bathroom designers in the Tradebusters network have all been carefully selected, having come to us highly recommended. With our stringent background checking process, we are certain that all our bathroom renovators and designers in Brisbane have highly impressive track records, which is why our team continue using them. We are a relationship based network meaning  our team can tell you everything you need to know about the bathroom renovators and designers we work with including sharing information about their quality of their work to what former clients have said about them, all to help you make an informed decision about your bathroom renovator choice.
Your bathroom renovation project may also need materials such as bathroom tiles and other fixtures and fittings, and so our service goes further in that we can introduce you to several Brisbane suppliers that will give you the best prices for your materials.
Our service is free and easy to use service. Our team will always discuss with you the nature of your job and work directly with you to match you to the best fit professional bathroom renovators or bathroom designers in Brisbane from our network.
If you are ready to kick start your project you can tell us about it by either calling us directly, or by completing our simple online form, and a member of our team with contact you shortly.
 More Bathroom Renovation Tips
How To Choose A Quality Bathroom Renovator
6 Bathroom Design Mistakes You Need to Avoid
A Luxurious Makeover For Your Bathroom