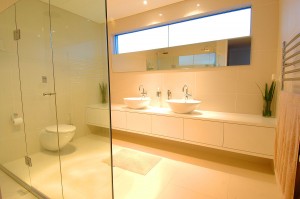 Are you planning a bathroom renovation?
The bathroom is one of the most costly and complex rooms in the home to renovate.
A bathroom renovation can cost you anywhere from $10,000 to over $25,000 to complete depending on size, selection of features and level of configuration changes needed.
To help get your renovation right, we have collected tips from some of the great bathroom renovators in the Tradebusters network. Here are their top 5.
1. List your absolute "must haves" for your new bathroom.
It may be the luxury free standing bathtub that you have had your eye on or something more practical like maximum storage space or a double sink basin. Ensure they are budgeted for and planned in the overall design.
2. Avoid unnecessary costs.
If possible, try and maintain the existing plumbing and electrical configurations of your bathroom as changing these will require additional time, work and dollars!
3. Less is more.
It is really important to avoid over cluttering especially if you only have a small bathroom to work with. The following features can help you achieve the perception of more space: good lighting, wall and floor tiles in a light neutral palette, recessed wall niches and full length mirrors.
4. Think timeless not trendy.
A well designed bathroom with neutral coloured walls and features will not only still look great in 15 years time, but will be a lot more appealing to others especially if you are planning on selling the property.
5. Finding and selecting the right experienced bathroom renovator is an absolute must.
It can get extremely costly if the quality of work is so poor that it needs to be restriped or waterproofed again. Don't be afraid to ask to see examples of their recent works and speak to prior customers about their experience in order to establish if the bathroom renovator can deliver a project on time, budget and within quality expectation.
For help in accessing known, tried and tested bathroom renovators, tilers and plumbers for your next renovation in Sydney, Melbourne, Perth or Queensland, contact us at Tradebusters.