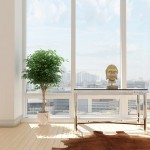 To many home owners, the size of the home does not really matter as much as its location and the views its residents can see through windows that enhance the views. This makes the windows that deliver these views very crucial. Beautiful windows can influence your interiors, and that makes it important to have every single room in your home fitted with such windows, that come in a virtually countless styles and designs.
In case you're wondering how windows can influence your interiors, consider the following:
Let natural light in
You can have all sorts of lighting fixtures, with every imaginable design installed inside your home, but nothing will ever beat natural lighting. We humans thrive under natural light, just like green plants do. Natural light is our connection to the outdoors from inside our homes, and is very essential to a healthy life. If possible, make sure that you let natural light in in every single room of your house, regardless of your window design. Skylights are also a good way to let natural light inside your home.
Window design: Windows that enhance your room's best features
If a room has tall ceilings, it would look great when it has clerestory windows installed high above the ground. Windows that have a lower sill height to the floor, on the other hand, work best for smaller rooms. In choosing a window design or style, always take the best features of the room you're installing the windows in into consideration, as well as the space the windows will be placed in.
Choosing windows that enhance the views
When choosing windows, you have to pick windows that enhance the views that you have from inside your home. It is, after all, the best way for you to capture the beauty of the outdoors and bring it right into your home. If your place is an city loft, curtain wall windows will be great for enjoying the city lights at night. Floor to ceiling glass windows, on the other hand, are perfect for beach houses because they give you a perfect view of the ocean.
Getting natural light in while keeping your privacy
If there is one room in your house that needs natural light and privacy at the same time, it's your bathroom. That's why when choosing windows for your bathroom, go for designs and styles that let natural in light but provides you with all the privacy you need. Glass block windows, for instance, are a good choice for bathrooms. Made of transluscent glass, glass block windows let natural light in but obscures the view, allowing you to keep your privacy.
Take your property orientation into account when choosing window styles
Many home owners plan their windows according to how their properties are oriented according to the sun. For instance, if your bedroom happens to where the sun strikes early in the morning and you're a late sleeper and riser, the biggest mistake you can ever make is to install a window wall of glass there. You can also plan your windows according to seasonal changes in order to make your home more energy efficient. Strategically placed windows can help you keep the heat out in the summer and keep heat in during winter.
Get creative in choosing windows
It is but normal for architects and designers to get creative when choosing windows. The thing is, you can do the same thing, too. Like them, you can play with solid space on walls or put up windows that enhance the views, but are also quite visually appealing themselves. It never hurts to ask people who specialise in windows about your options, from rectilinear and curvilinear types to custom shaped windows.
Solar glazing for energy efficiency
One direct influence windows of your choosing have on your home in general is the ability to lower energy bills, something which solar glazing can easily do. Apart from reducing or even preventing heat loss in the winter and heat gain in the summer, solar glazing can also prevent UV light from penetrating your home and taking a toll on your furniture.
Windows as interior art
Sure, a tasteful painting hanging on the wall in your living room can provide the space with all the art it needs. There is no greater wall art, however, than nature itself, courtesy of the windows you choose for the room. There are windows that perfectly frame the views outside of a gorgeous garden or a very scenic ocean. Who needs paintings when your windows provide, real, gorgeous and natural works of art?
Should you need some help in choosing window design or installing them, remember that we are just a phone call away. At Tradebusters, our team  can help connect you with the right window suppliers, window installers and interior designers that can help you achieve your creative vision for your home, whether it's just to let natural light in or install windows that enhance the views.