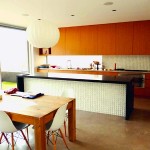 There are a lot of reasons why we sometimes feel cranky and so not in the mood even when we are just sitting idly in some corner of our house and in some cases, that dark mood may have something to do with the interior lighting or the lack of interior lighting to be precise.
It has long been established that we humans respond, act and feel better in a home that has plenty of natural light. That is the very reason why we need to let natural light in as much as we can. However, brightening up the dark areas of your home is not just all about finding ways to let natural light in. It also has a lot to do with how a certain room is finished, or its current paint colour scheme.
To help you get started, we'd like to offer some tips that will help you brighten up the darkest areas of your home.
Improve your home's interior lighting
Assess the dark areas of your home
Before you can actually do anything to brighten those dark areas up, you will have to assess that area and determine which factor is making it look and feel like a black hole. See if what you need are just bigger and better windows to let natural light in, walls painted in lighter colours or furniture that is less dark and bulky.
Install recessed lighting fixtures to brighten up a dark ceiling
If your home has a ceiling that is dark painted or wood paneled, you can install recessed lighting fixtures just to brighten things up. I know you may have gone with the darker ceilings to create a dramatic mood in the room, but by now, you might have realized that they also make the area feel like a cave. When you install recessed lighting fixtures, which are also known as "can lights", you can easily make the area brighter, and do it without being obtrusive to the eye of anyone in the room.
Interior lighting: Do some mixing and matching with colours
Mushroom gray, espresso brown, camel tan, warm rust colours and other rich bodied neutral colours are good for providing the home some warmth. The extreme versatility of brown, white and the tan families of colours, on the other hand, are great if you have heavy wood furniture and dark wood floors and doors. The contrast makes for a brighter and warmer room and substantially improves interior lighting.
Brightening up your dark bedroom with smart interior lighting
So you've got a bedroom that was deliberately decked with walls, beddings, flooring and accessories that are dark to create a feeling of drama and darkness that makes it a great place to sleep and relax in after a long, hard day. If you like it that way yet you want a bit more interior lighting to see and appreciate the bedroom better, try adding soft lighting in strategic areas. Pendants and table lamps with soft lights would be great.
It would also be great if you could strike a balance between dark and light in your bedroom. If it has dark walls, use light-coloured beddings, throw pillows and bedroom décor to brighten up your room a little.
Brightening up your kitchen
Many home owners will attest to the fact that the kitchen is a more enjoyable place to work in when it feels open and has plenty of light. So if your kitchen has dark flooring and kitchen cabinetry, contrast it with light-coloured kitchen countertops. Or, you can add cabinets in a lighter colour to contrast with the darker ones.
You can also opt for accent kitchen pendant lighting if only certain areas of your kitchen are dark. With so many accent pendant lights to choose from, you will certainly be making your kitchen not only brighter, but also infinitely more stylish.
Let natural light in to brighten up your closets
Closets are naturally among the darker areas of your house. To let natural light in, you can install top of the wall windows that allow light in, but never compromise your valuable wall storage space. If your closet doesn't have an exterior wall, a solar tube that will let natural light in from the roof to the closet should do the trick.
Should you need help to brighten up the darkest areas of your home, we at Tradebusters can help. With just one call, we can connect you with any specialty tradesperson you need for your home improvement jobs to help with interior lighting and more brightness at your place.
https://www.tradebusters.com.au/wp-content/uploads/2018/06/Tradebusters-Transparent-Logo-300x79.png
0
0
Valerie, The Editor
https://www.tradebusters.com.au/wp-content/uploads/2018/06/Tradebusters-Transparent-Logo-300x79.png
Valerie, The Editor
2014-01-04 10:08:00
2014-05-17 16:21:40
Interior Lighting: How to Brighten Up The Darkest Areas of Your Home