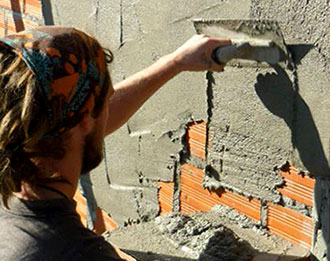 Find a renderer in Sydney for your home!
Are you looking to give your home a new look with a beautiful render finish? Need some interior or external walls repaired and rendered in Sydney?
No matter how big or small your job, rendering is a speciality field. It may be a large investment for you – and if not done right, an extremely costly one. There are many cement renderers in Sydney to choose from and the process, techniques, quality and prices can vary significantly and leave you confused.
Finding the right renderers in Sydney?
It's as simple as one call to Tradebusters!
We recognise that a quality cement render or any render job can add substantial capital value to your home and so our team has been extremely selective about the Sydney cement renderers we want to be associated with. We can really tell you about the renderers in our tradesmen network like Eddie and Albert who have over 14 years industry experience, and have produced thrilling rendering jobs at very competitive prices for other users of our service.
As reputable Sydney renderers, they are proud to showcase their cement and acrylic rendering projects to you, and offer client references and addresses for your viewing so that you can be absolutely confident with your selection.
The types of rendering services they can help you with include:
Acrylic render
Cement render
Bagging
Blue Board
Decorative mouldings
Textured coating
White set
Wall cladding
Wall painting services
Wall repair services
For your residential home, fences, internal and externals walls and other areas
Our service is totally free to you, so get your rendering project off to a great start and contact us about helping connect you with quality renderers in Sydney today.
More Tips for your home
Stop the travelling conmen tradesmen
How to budget for a home renovation project
What to ask a tradie