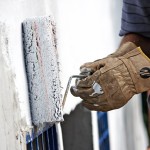 When you have rental units, maintaining them well is one the most important tasks you have to do as a landlord. When you maintain your rental property well, you don't just make your tenants happy. You are also making sure that the rent remains high, and that means a more than decent income for you.
However, if you want to charge even higher rates sometime in the future, you might want to perform renovations on your rental units. Renovations always add value to any property. Good if you have a budget for something major, but you can also boost rental income with simple renovations. Here are some of those simple renovations you can do without spending a fortune and maximise rental return at the same time.
Clean it thoroughly
While cleaning a place up doesn't really qualify as a "renovation", it can certainly help make your rental property even more attractive to potential renters. Aside from keeping the house clean in general, you would also do well to clean tiles, grout, carpets, curtains and drapes, among other things. A clean house smells fresh, and that should be a main selling point of the house to potential tenants.
Upgrade the appliances
If you're renting out your property fully-furnished, you'll be able to maximise rental return by upgrading the appliances, particularly the dishwasher, washing, machine and dryer. These three appliances are often very important to renters, so it pays to have them upgraded. The same actually goes for air conditioning. You can charge more for the rent, and most potential renters probably wouldn't mind.
A fresh coat of paint
A fresh coat of paint on the walls of your rental units can go a long way in boosting your rental income. If we take the preferences of potential tenants into consideration, your safest bet when it comes to paint is a neutral colour. Go for soft hues such as rain-cloud grey, khaki or beige all of which create a calming atmosphere that many people like.
Simple renovations of the bathroom and kitchen
If you have the budget for a bathroom and kitchen renovation, then go for it. If not, just replace fixtures like faucets, showerheads and toilet seats, and have the tiles cleaned and re-grouted. You can even paint your bathroom and kitchen walls and cabinets if you want to give them a fresher look. Bathroom and kitchen renovations will always boost both the sale and rental value of any given property, so they should always be in your list of improvements if you want to maximise rental return.
Put up more storage
Tenants will always go for units that have ample storage in the form of cabinets, cupboards and built-in wardrobes. With all the stuff that they'll probably bring with them, they certainly would appreciate it if they won't have to provide storage themselves, and be willing to pay more in rent.
Add rooms
This, of course, is only an option if your rental units are large enough to accommodate more rooms. You can split large bedrooms, or you can re-purpose rooms like the laundry room so it can serve as an office or another bedroom.
Install secure locks
It is important for tenants to have secure locks in their rented home, and wouldn't mind really mind paying a little bit extra for it. After all, secure locks mean their valuables won't be in danger of getting snatched any time soon.
Truth be told, it is quite hard to come up with an exact figure on how much your rental return will increase with your simple renovations. Still, a well-maintained and updated property will always attract a higher quality tenants, so you'll always benefit from this long term.
Should you need help finding tradies to do these simple home improvements for you, our free tradie concierge service can help you do it all. Give our team a call, and we'll be more than happy to help arrange for you to meet highly-skilled and experienced tradesmen and builders who belong to our network. This service covers you whether your property is in Sydney, Melbourne, Brisbane, Perth or anywhere else in Australia.
https://www.tradebusters.com.au/wp-content/uploads/2018/06/Tradebusters-Transparent-Logo-300x79.png
0
0
Valerie, The Editor
https://www.tradebusters.com.au/wp-content/uploads/2018/06/Tradebusters-Transparent-Logo-300x79.png
Valerie, The Editor
2014-04-10 09:28:29
2014-05-17 16:06:18
Boost Rental Income With Simple Renovations