"We help give you an experience of building, renovating and managing your home that is positive, rewarding and stress – free, rather than the daunting process it often is today". (Laorence Nohra, CEO)
………………………………………………………………………………………………………….
Tradebusters is all about you.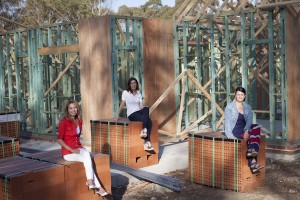 And like you, or perhaps your neighbour or friends, our team has had their share of horror tradie stories!
For Sharon (she's in the picture, right), it was the plumber that never came back after she gave him a deposit. For Annette, who has built and renovated many times, it's all those tradies that just never showed up on time and didn't bother to tell her. And for Laorence (our CEO), well, she still cringes every time she visits her parents' house and sees that really bad tiling job from eleven years ago.
Tradebusters was born in 2006 out of pure necessity! Our all – female team simply recognise that when it comes to something as personal as our homes, most of us value the peace of mind of dealing with a known and vetted tradesperson that can only come from a quality word of mouth referral.
Get trusted tradesmen referrals as good as from a friend…
A business built from homeowners best tradesmen experiences! That is the foundation of the Tradebusters model, and to this day continues to be our strongest principal. We pride ourselves on offering quality connections that are as trustworthy and credible as those from a friend.
And just like a friend's referral, our service is FREE, and as simple as one call!
The Tradebusters difference
As with any business, we believe it's important you understand what sort of business it is or is not.
We are open to share with you those things that we are not:
We are not a data base directory service with tens of thousands of unknown listed tradespeople.
We do not accept any business into our network. And we certainly do not accept anyone that doesn't have the necessary qualifications in place.
We will not send you tradesmen contact details and leave it with you to go through the time-consuming process to determine if they are available, suitable and not over-priced.
We will not waste your time with multiple confusing quotes, only to realise that the first person your saw was perhaps the best fit.
And most importantly, we are not an automated impersonal service.
We commit to the following as part of your service experience with us:
It's all personal. Our team will speak to you about your needs. We want to know exactly what's going on at your place and understand what is important to you.
Entry into our network by trade businesses is by exclusive invite only, and based on the recommendation of those who can vouch for them.
We can tell you all about the tradespeople in our network. Whether its "Jimmy the tiler" whose work is superb, "Ivan the painter" who just had a new baby or "Pete the handyman", who is never available on Friday's (because he is always at his farm!).
We consider ourselves to be tradie match-makers! It's all about the right fit for you – experience, specialities, availability, prices and even personality.
Sometimes we will only offer you one quote. And that's because we know with over 100% confidence that you won't find a better deal in our network.
Plus the nice extras. We can help you access preferred rates and supplier discounts when using businesses from the Tradebusters network saving you time and money.
Where we are today!
Over the years numerous households across Australia have welcomed us into their lives to share their experience, from repainting a new baby room, renovating a kitchen or building their dream home.
The small Sydney based business has grown into a leading Australian wide tradesmen service provider, and continues to be the preferred choice for busy home-owners and numerous real estate agencies. From 30 to now over 200 handpicked tried and tested trade businesses within the Tradebusters network, together they proudly employ thousands of Australian tradespeople.
Tradebusters has been featured in The Sydney Morning Herald, The Daily Telegraph as well as various online, local and industry related publications.
We welcome you to join us and experience the Tradebusters difference today.